Oh my little kitchen. 9.5 x 12.5 feet (including the walkway to get to the basement) was just getting so overrun. Really I had just crowded too much in there I think. I didn't take full before pictures, but you saw the disaster it was the other day. When we went to put in the french doors I moved everything out of the small corner cabinets in the dining room and realized just how dusty things there were. We haven't changed much about what was in them for years. Now that Tuesday can reach up there I thought I should put the china up and out of the way. But there was no where in the kitchen for it to go.
Time for a complete clean out. I pulled everything off every shelf. I cleaned, purged and put it all back together.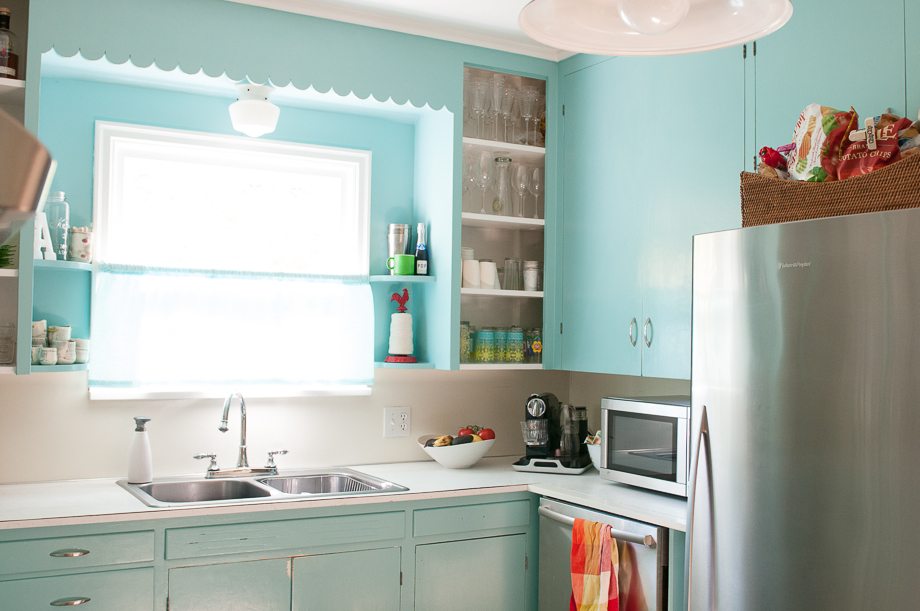 The basket of chips was me finally giving in to the fact that we always have chips and they need a place to go besides crammed next to the microwave or crunched up in a drawer. Bj has already taken his coffee maker thing off of the tray so I might have some convincing to do on some of the reorganization.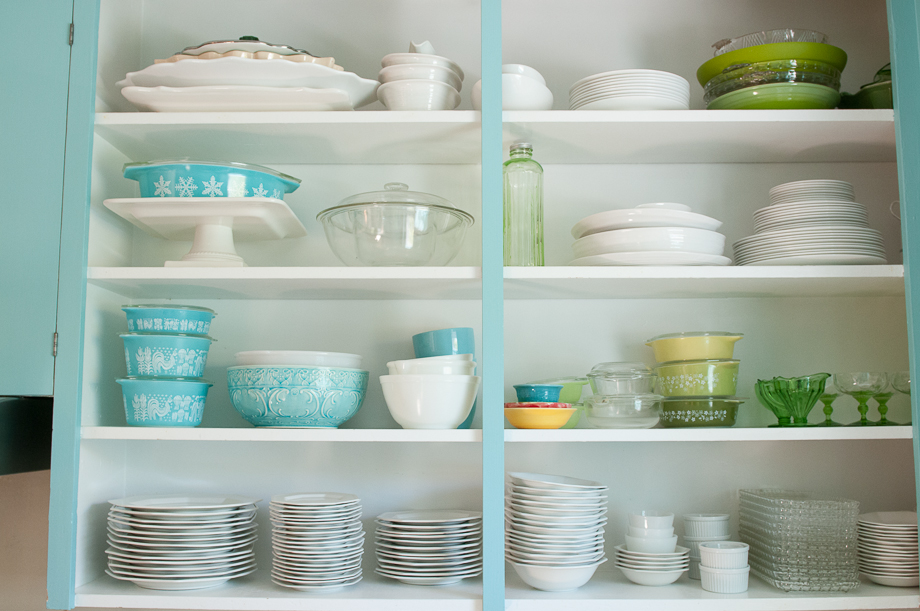 The bulk of my time was spent here, moving things around to better suit us and what we use most often. I've talked about my dishes here (always on the lookout for them!). I probably still kept too many serving dishes, but I really do like to entertain. This is the longest I've gone with out throwing a shower of some sort!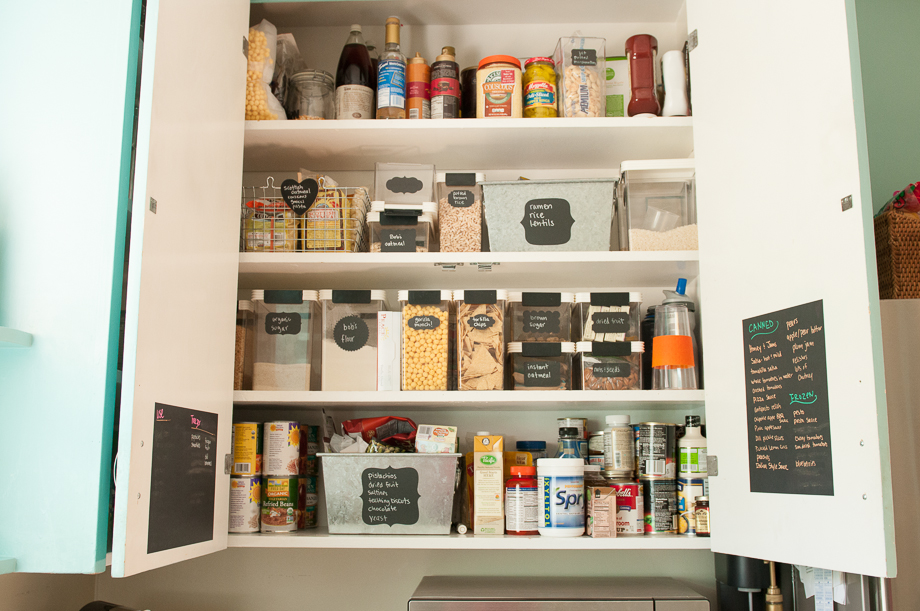 And I took all of this out and reorganized and labeled (easy since they are just chalkboard labels I cut with my Silhouette). We only have this cupboard, one drawer and our refrigerator and freezer for food. If I get something in bulk I can store it in the basement (where my preserves are – out of the light), otherwise everything has to fit in this kitchen. When I'm on top of my game in the meal planning department this is no problem. When I'm not random crap gets bought and builds up here.


(Please ignore the pineapple, they were 10 for $10 and I haven't had a chance to process and freeze them yet). Our pots and pans go here, one drawer is all tea, another small cooking utensils and the last well, it's the drawer we all have in the kitchen! The bins hold baking supplies, parts to our small kitchen appliances, cookie cutters and I have a whole bin dedicated to popsicle making. This buffet thing from Ikea is not the best, it does block the walkway to the basement a bit, but we needed the space. In the corner of this picture you can see our learning tower. It's a testament to how much we use and love it that we make it work in this small kitchen!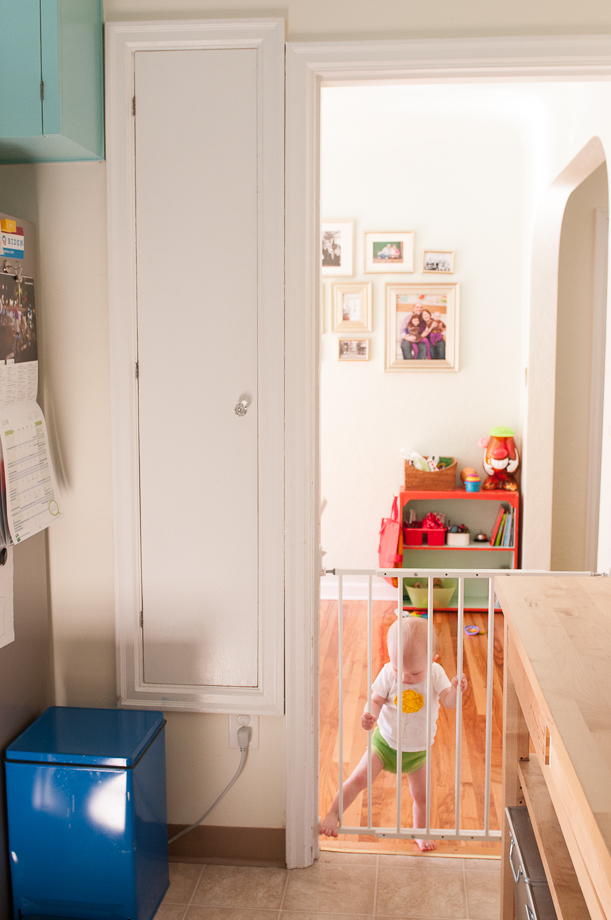 Recycling bin, and my spice cabinet. And my cutie. We have a gate here and can also close the door going to the basement for safety.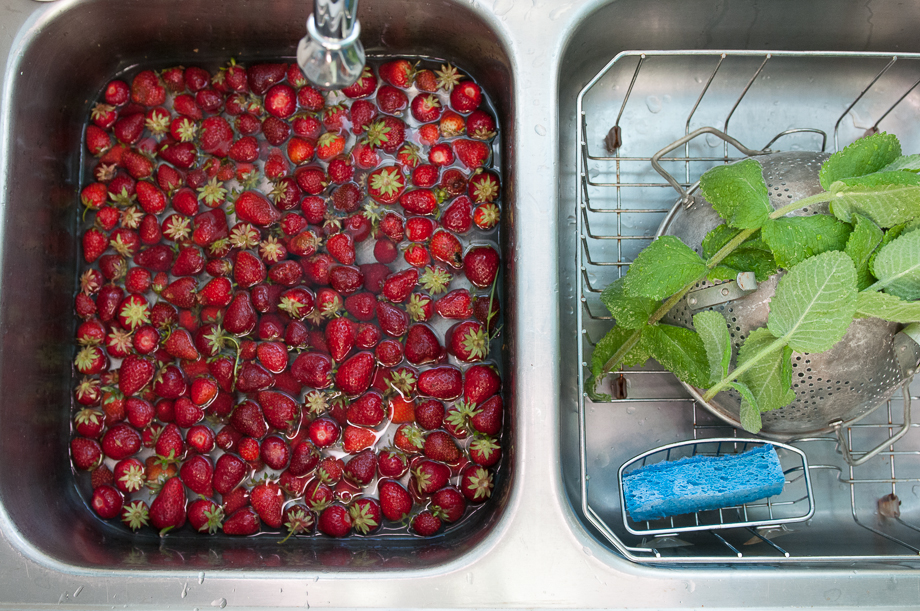 (from our yard: strawberries and mint)
I stayed up too late (12:30) working on this, but you know that super satisfied feeling you have completing something big? When you go to bed and are just so happy you finished the thing? That was me. I was so pleased with myself. So happy I did it all. It cost me all of zero dollars to feel like I was getting a completely re-organized and updated kitchen (the basket I found in another room).
Now, what to cook…