Tuesday was tiny, Bennet is tinier! Add to that starting EC earlier than we did with Tuesday and there are not many trainers that fit my wee girl. I did find these from Charlie Banana (it doubles as a swim diaper) and got one. SO cute. But since I sew and my friend showed me a great (free) pattern that mostly uses scraps of fabric I just couldn't justify buying more!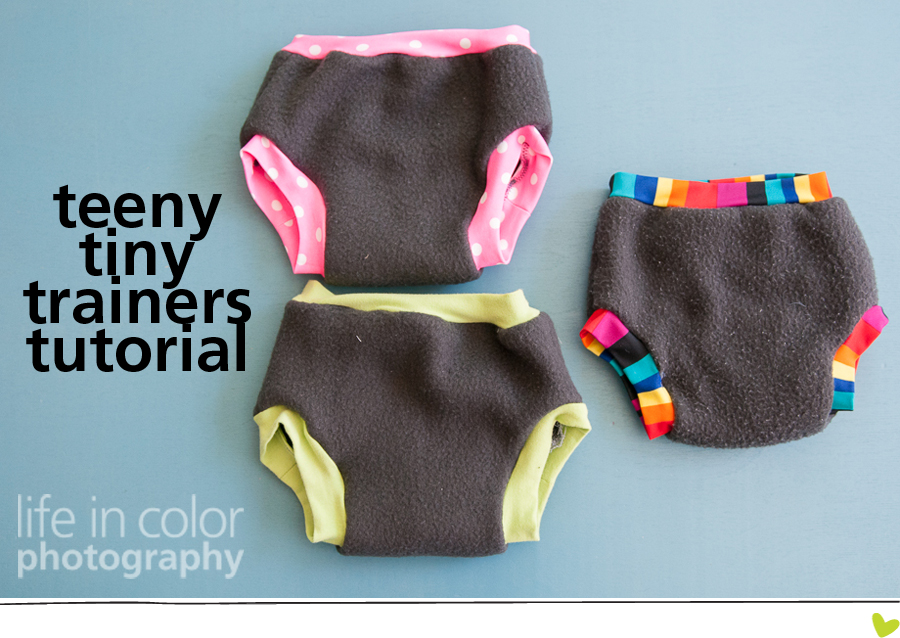 I took the smallest size and made it even smaller. Though the small size is rated for 0-6 months it was easy enough to customize the rise (length from crotch up to the top of the waistband) and leg and waist openings. My babies never had much chunk on them so making these openings smaller was key. The tutorial on her site is great, but I thought I would show you the modifications I made and give a few tips if you're interested. The pattern goes up to 3-4 years so while I made these teeny tiny for Elimination Communication they could be made big for older kid potty training too!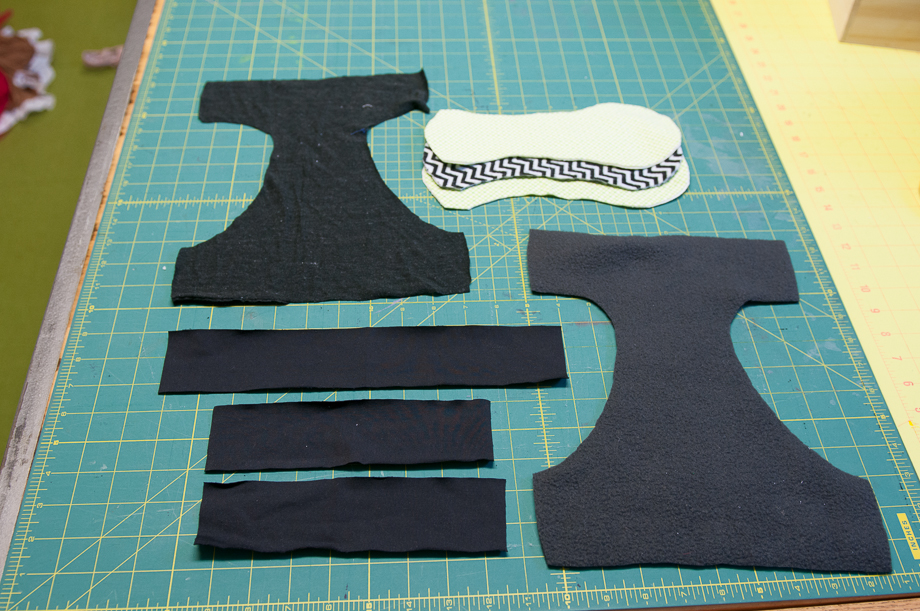 Here are all the pieces I cut out: four pieces of flannel for the absorbent layer (just scraps, old Pjs work great for this), a waistband and two legbands cut from spandex pants I was never going to fit back into (Adidas running pants, I loved working with this material, but old swimsuits and nice tees also work. Anything with 2 way stretch – just pull the material each way and see if both ways stretch, if yes, it's two way stretch), the two big pieces are the main panel. I cut one out of a soft old tee and one out of fleece. This is different than the pattern. I have no waterproof layer, but the fleece gives a little protection, enough for me since I change her after one pee anyway.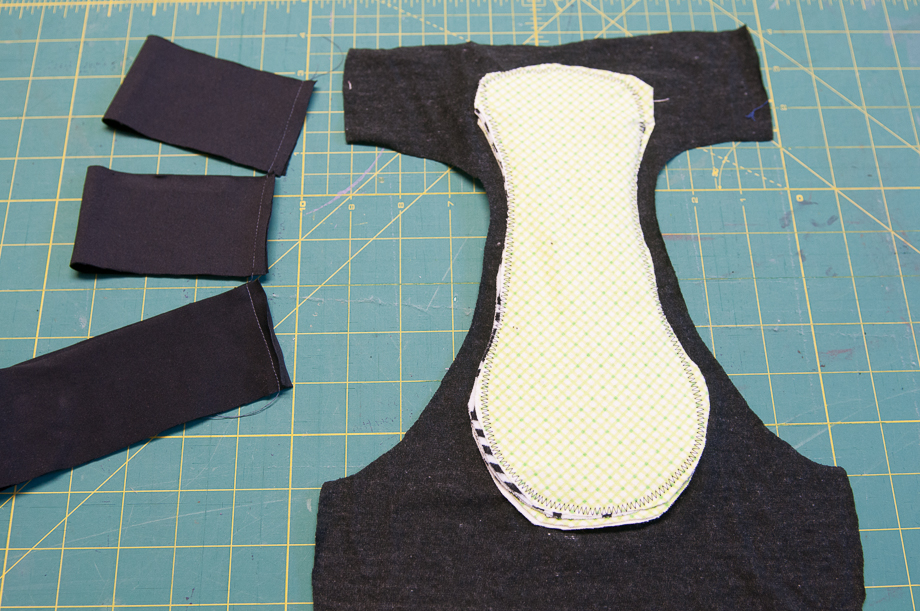 Here is what I've done now. The leg and waistbands have been sewn right sides together (I chained pieced them since that slippery material always wants to get eaten by the machine). I tried this step with my serger and didn't like the results, for me the regular stitch here is just fine. I did a messy zig zag to tack the four layers of flannel onto the old tee shirt. No one will see this so don't bother with perfection here.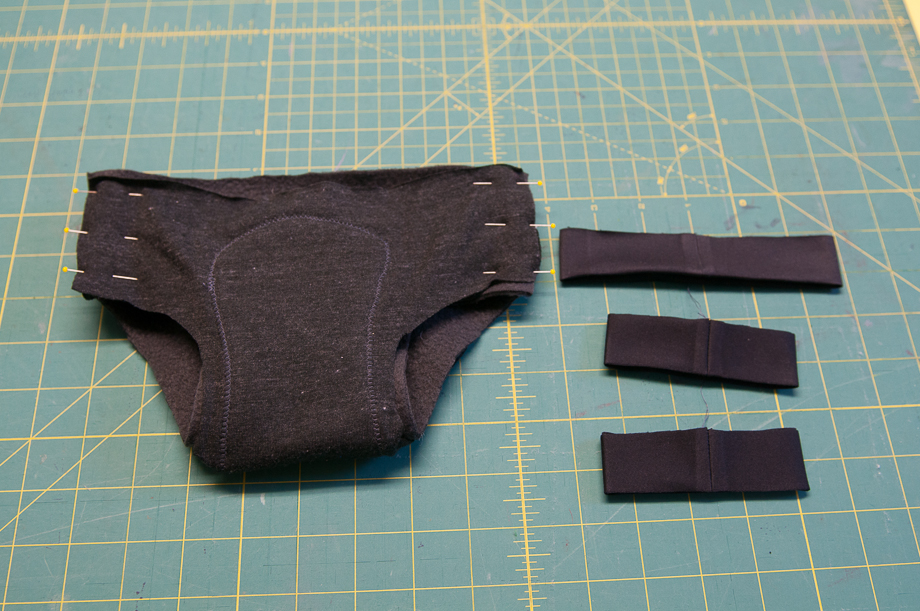 I've flipped the flannel to the inside and laid it next to the fleece outer layer. Right sides together, pinning the edges to grab the tee shirt (inner) layer and outer layer (four layers total) I sew up the side. Since I have one I use a serger, regular stitches will work. The waist and leg bands have been pressed wrong sides together (I open the seams up).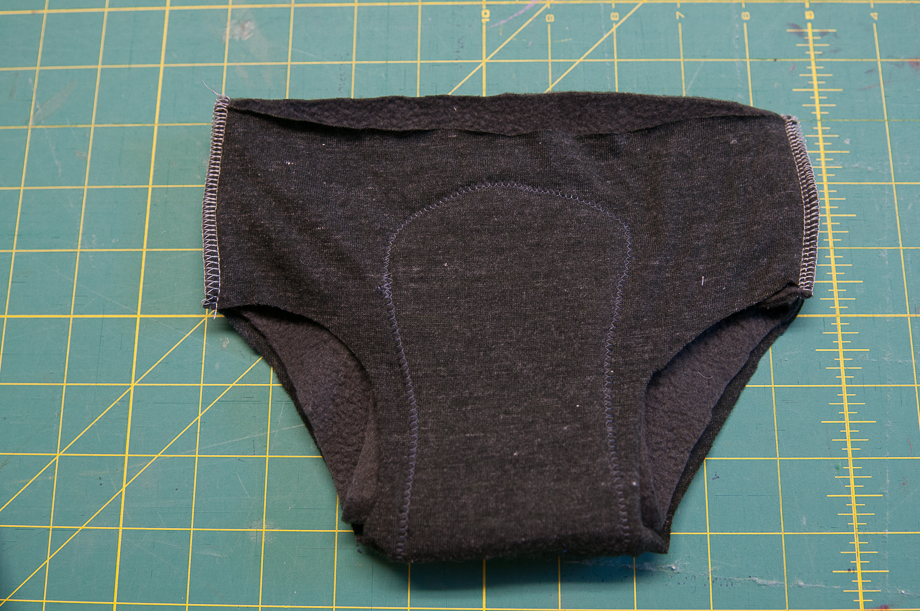 Serged edges are neat and tidy, but the leg openings are a bit wild with all those layers so the next step I added to tame them before trying to put on the bands.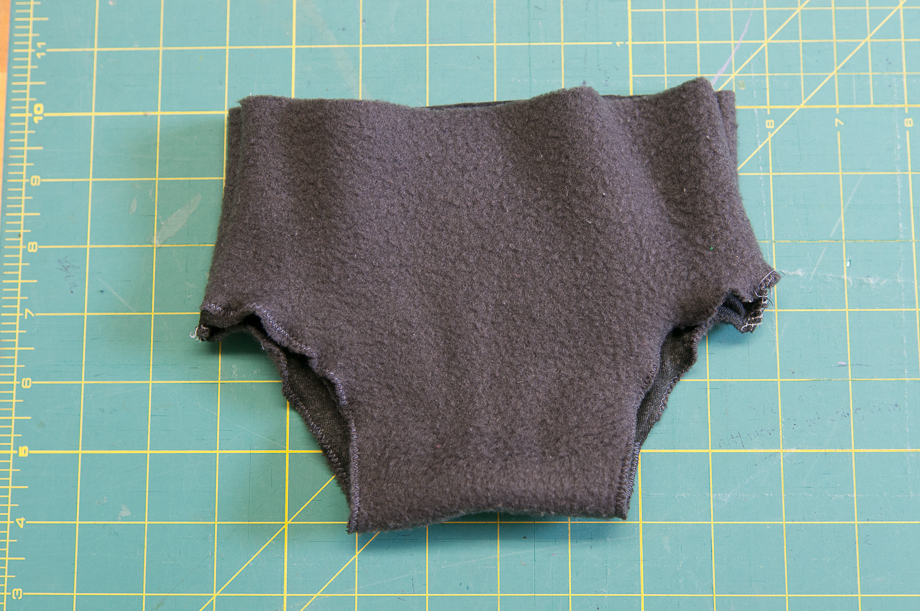 I flipped it right side out to show you, but I find it easier to sew from the inside. Just a simple zig zag, doesn't have to be pretty, really it only temporarily holds it in place so that you can put on leg bands.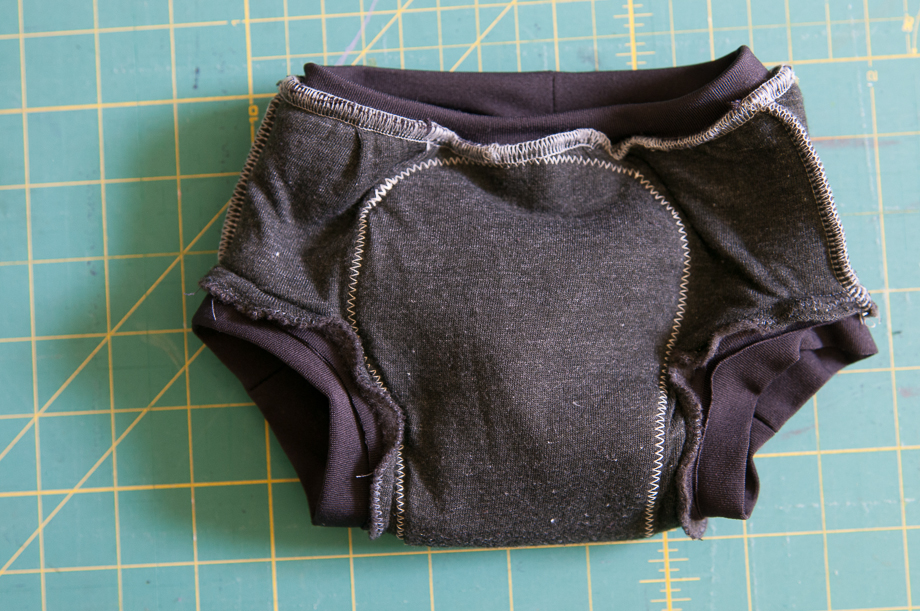 No pictures of that part because it is a real struggle. These things are TINY and it is all I can do to get them around my machine. See original tutorial she has a good picture. My tip if you're having trouble would be to skip serging the leg bands, especially if you are doing something for 14 lbs and under babies. They are crazy small! I really hate this part, but the slipping and sliding (and cussing under my breath) is worth it in the end.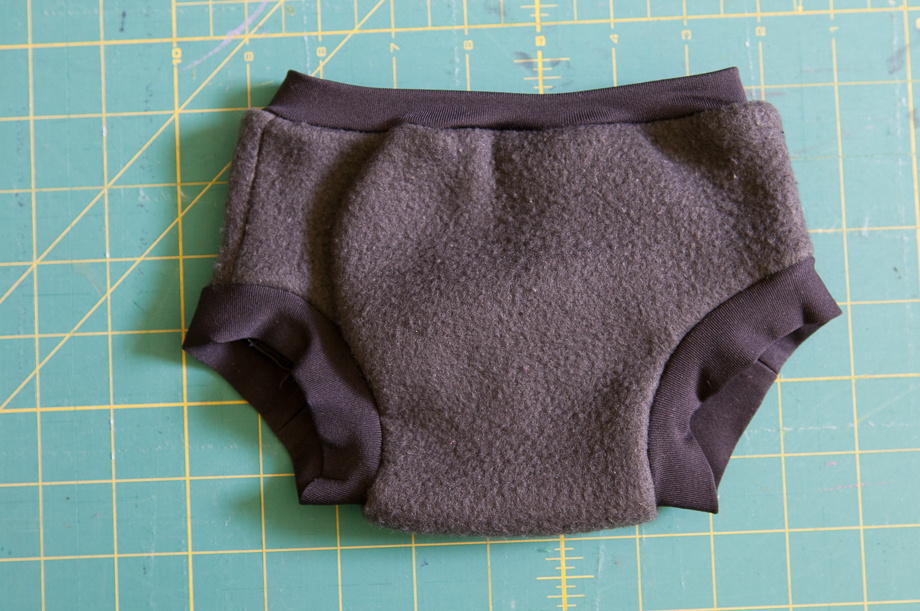 Really a great little trainer. And the reason for the t-shirt layer becomes apparent. This way from the outside you don't see any stitching where the soaker is held into place. I think this looks much nicer and am so pleased my friend came up with this work around. It adds a little bit of extra time, so it may not be worth it to you, but I'm sold on this.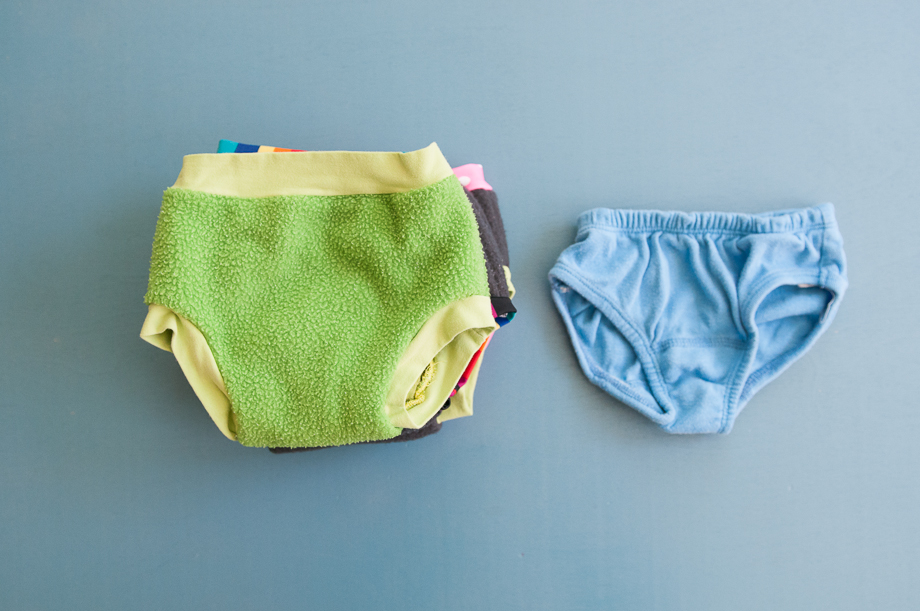 Here's a stack next to the tiniest undies we own: Under the Nile XXXS, or about for a average one year old. The trainers may look bigger, but you can see the leg openings are actually smaller, which is what matters here. The green trainer shown uses anti pill fleece, which I recommend, and an old tee shirt that I loved to death that was 2 way stretch.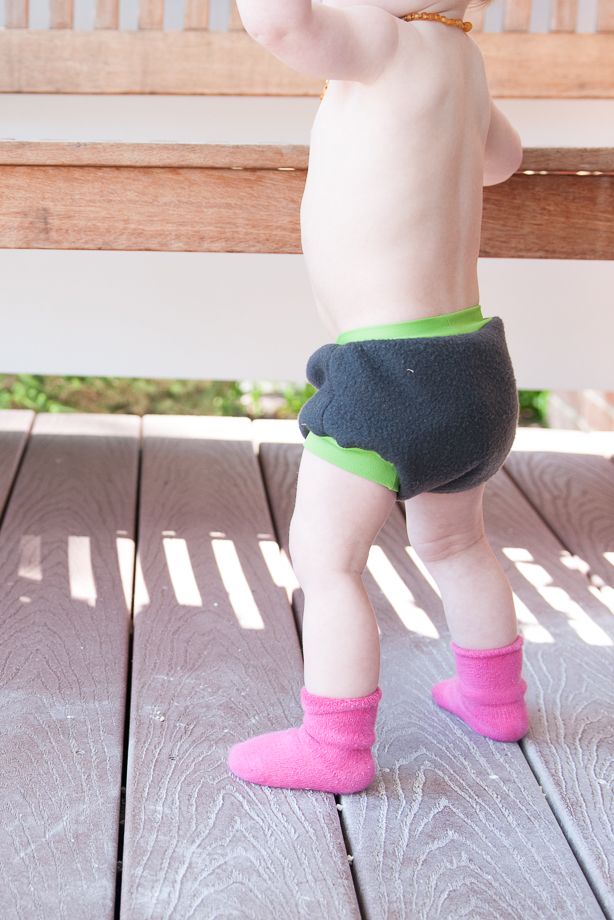 It was hard to get a shot of her in these things as you can see, so here is a video of her in action!

That was a prototype that wasn't quite to the size I was aiming for, so it's a little big, but as you can see works great when she moves. The adorable shirt is from this Etsy shop of my friend Sciarrino.