Bj was a little confused when I told him this diaper bag was for us: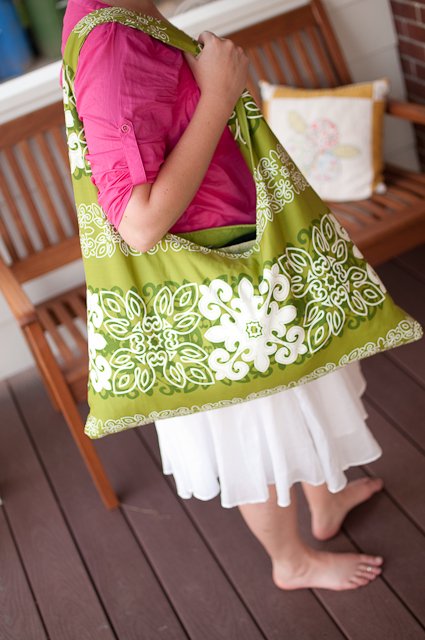 A girl's gotta have options! The pattern is Amy Butler's Nappy Bag and I love it! It is huge, yes, but it holds lots. An added bonus is using up my plethora of Hawaiian fabric I got the day Bj
proposed
.
Does it look familiar? I'll send you a piece of it if you're the first one to guess why (mom, Sciarrino, Bj – don't give it away!).
Agnes figured it out. I used it for
curtains
in the lower level (before it was demolished and put back together in a different configuration). Anyway I finished this up last night. Oh how I love my new machine. It made sewing a breeze. Also helpful was this new tool: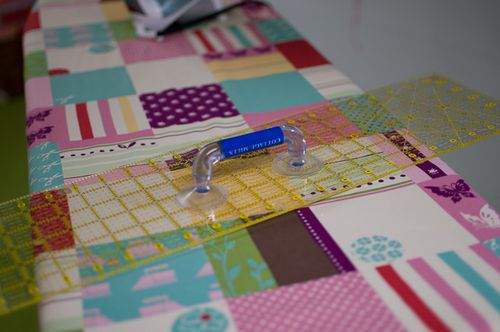 A handle for my acrylic grid ruler. I wish I had one of these when I was teaching Emilie, I kept thinking she was going to off one of her fingers. The inside of the bag: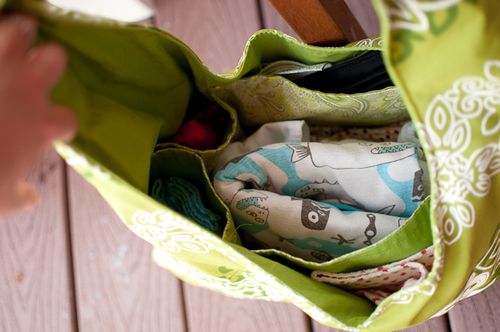 I ended up only doing one bottle pocket so I could keep those two larger ones on the left. The other side with the pocket looks like this: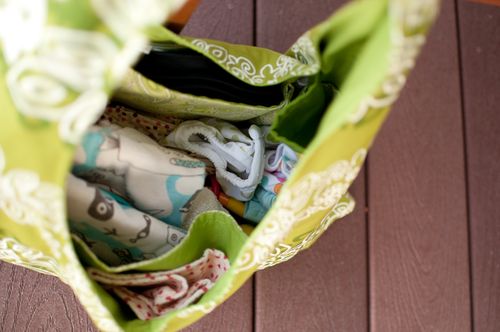 You can see my modification steps here. In the bag in this example I have a 
blanket, diaper cover, cloth diaper, dirty diaper bag, 2 burp rags, a couple of toys, a spare outfit, water spray bottle, cloth wipes, natural hand sanitizer, changing pad, lap pad, sun hat, shopping bag, digital camera, and extra nursing pads. Oh and teething tablets and a pad (for mama, but so far no aunt flow – stay away I say!). 
I used it today during our adventures with grandma:
We spent seven hours in Portland, and it was still very hot. We did a good job of keeping her cool, being in air conditioning 99% of the time, and letting her suck on an ice cube (wrapped in a napkin with a rubber band – a great trick!). Plus grandma couldn't resist and got her this new dress. She did SO AWESOME. She was quite the little shopping pal. If I had a nickel for everytime someone told me she has the brightest eyes, or is the most alert baby… This was just caught during some brief down time 🙂 Anyway the diaper bag was great. I loved carrying it, and it stowed easily under the carriage as well. I give the pattern two thumbs up!