My dear friend Erin is getting married this summer. I am so excited for her because it is a perfect match, and also she is awesome and I love weddings. So when I took Tuesday to the carousel and noticed a little bee/honeycomb dish set in their gift shop (Erin is an amateur bee keeper) I had to pick up a few pieces for her shower. The next time I talked to her I asked her who was going to throw her shower and volunteered myself. She said she wasn't thinking she would have one. Ok, I live for stuff like this so I was shocked! Who would pass up the opportunity to have a party thrown in their honor?!?! Eventually I wore her down (and I found out her BFF was working on her too) and was able to throw her a shower this last weekend.
I wish I had a picture of everything all set up, I am getting a little better about coordinating everything so it is ready when guests come, but I didn't have a chance to snap photos before hand. I did run to get my camera when we started playing games because they were so funny.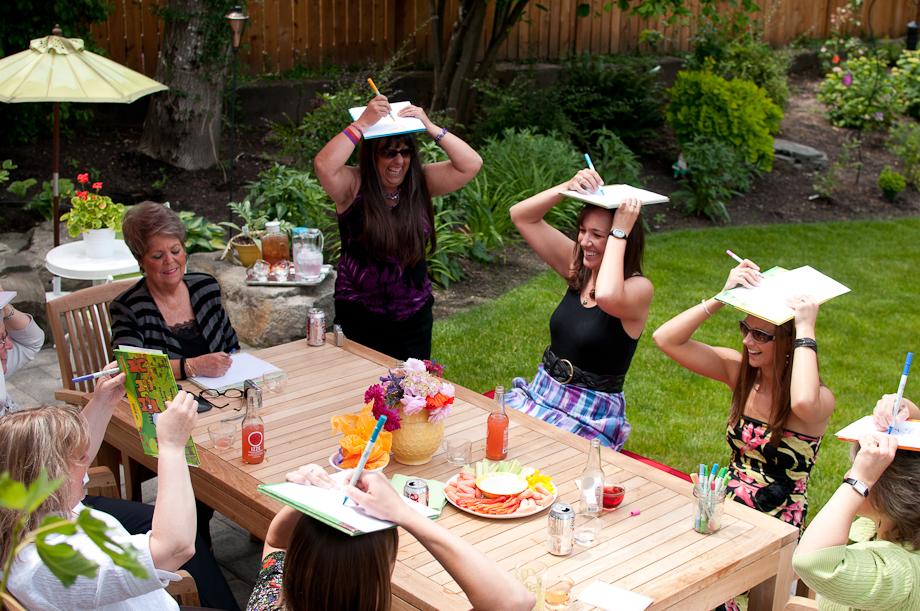 For this one they had books on their heads and had a minute and a half to draw Erin on her wedding day.
We did another drawing game. I got a big pad of paper on an easel and had each woman draw a card that had a wedding word on it with a point value. The person who got people to guess the most cards (points) was the winner—like wedding Pictionary. The game before that was one where we stood in a circle and I said a rhyme while a gift was passed around. The last one was the most fun. It was called purse game when I found it online. Basically you have each woman sit with their purse and read a list of things that might be in there, along with a point value. So lipgloss 1 point, Target gift card 7 points: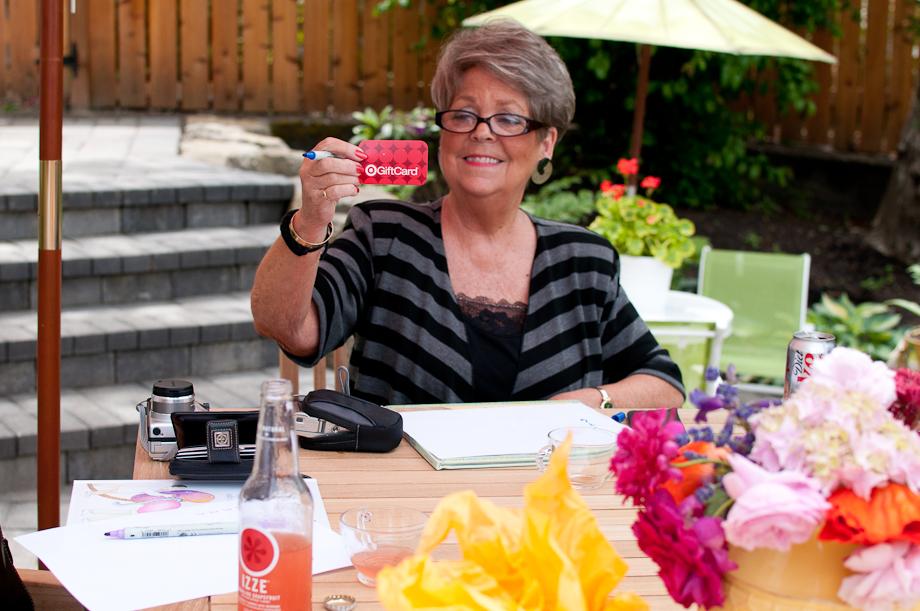 This lady was awesome. She had everything, except for the condom which I valued at 20 points, and if anyone had one they were not owning up to it! 🙂
We had some yummy food. Erin's best friend suggested the menu and it turned out great. A curry chicken salad (made from a beer can chicken of Bj's, so yum!), and a spinach strawberry salad with vinaigrette. I added some fava greens which we got in our CSA box and I actually ate a bunch and liked it (huge for me as I'm not usually a fan of vinaigrette).
Edited to add the recipe:
2 tablespoons sesame seeds

1 tablespoon poppy seeds

1/2 cup white sugar (did you know you can get a huge bag of organic sugar for $7 at Costco now?)

1/2 cup olive oil

1/4 cup distilled white vinegar

1/4 teaspoon paprika

1/4 teaspoon worcestershire sauce

1 tablespoon minced onion

10 ounces fresh spinach

1 quart strawberries cleaned hulled and sliced.

1/4 cup almonds blanched or slivered.

In medium bowl whisk together (we used an immersion blender) sesame seeds, poppy seeds, sugar, oil, vinegar, paprika, worcestershire and onion cover and chill for at least one hour.

Toss dressing with salad ingredients just before serving. Enjoy!

And the curry chicken salad:

Chicken (we used a beer can chicken that had been shredded, you could just use chicken breast if you wanted)

1 stalk celery, chopped

green onions, chopped

small apple, peeled & chopped

handful of dried cranberries

seedless grapes, halved

ground black pepper

teaspoon of curry powder…. actually I think I used more, I really like curry.

mayo

Mix it up and adjust as needed! easy! You can also add pecans.
Bj is killing me with all these cake pops! I helped decorate them, and just did a rainbow of sprinkles. These were the left overs.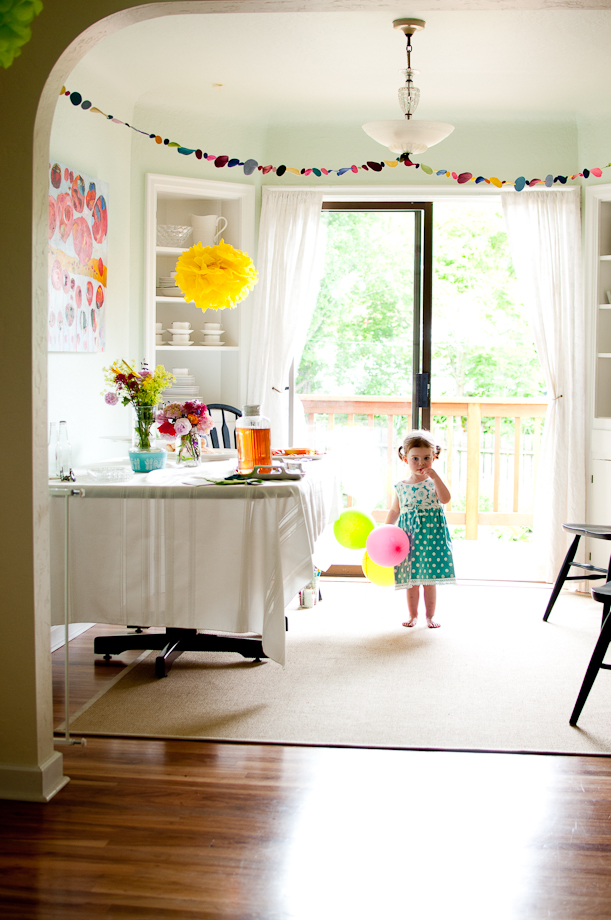 Tuesday wasn't invited (well she would have been welcome but I thought it would be easier to focus on the bride this way), but here she is after her nap scrounging on the left overs while I was cleaning up. The big poofs were from the tea party (and have already been loaned out once). They are holding up pretty well. The garland is from her first birthday party and I use it for every event, I love having it. I even put some on the porch this time: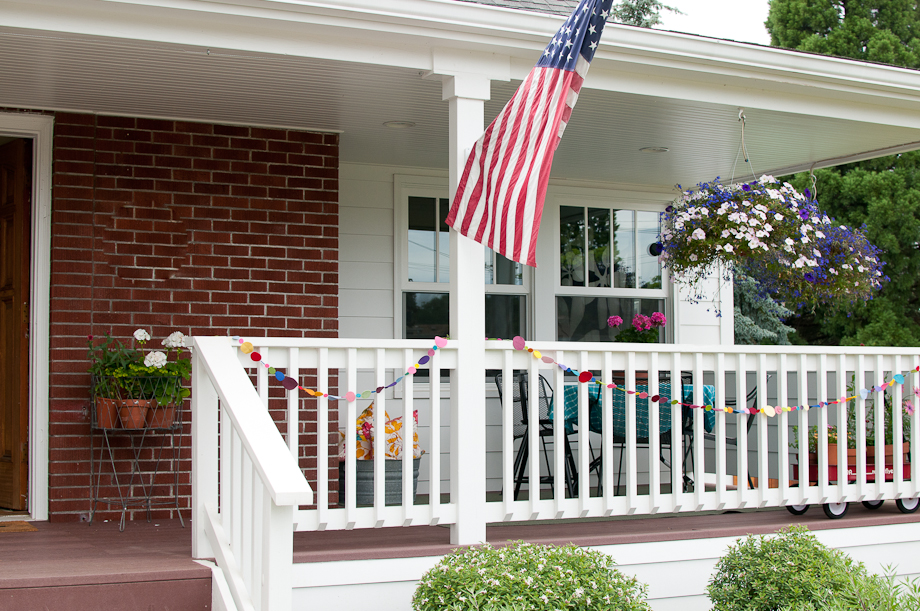 So fun. I want to make a forth of July garland. My mom made one and her packs of ribbon and jars are on sale so I just might have to get on that! I've got a week right?
So yes, fabulous shower for a fabulous friend. I am happy to throw one anytime. Ah babies and brides… the good things in life!