When Tuesday and I found out Chloe was coming to visit we asked our little play group if we could skip art time and do a tea party instead. In true Amber fashion I got a bit over my head, but we still had fun. I made these cute invites on the Silhouette, trying the print and cut feature for the first time, it really works!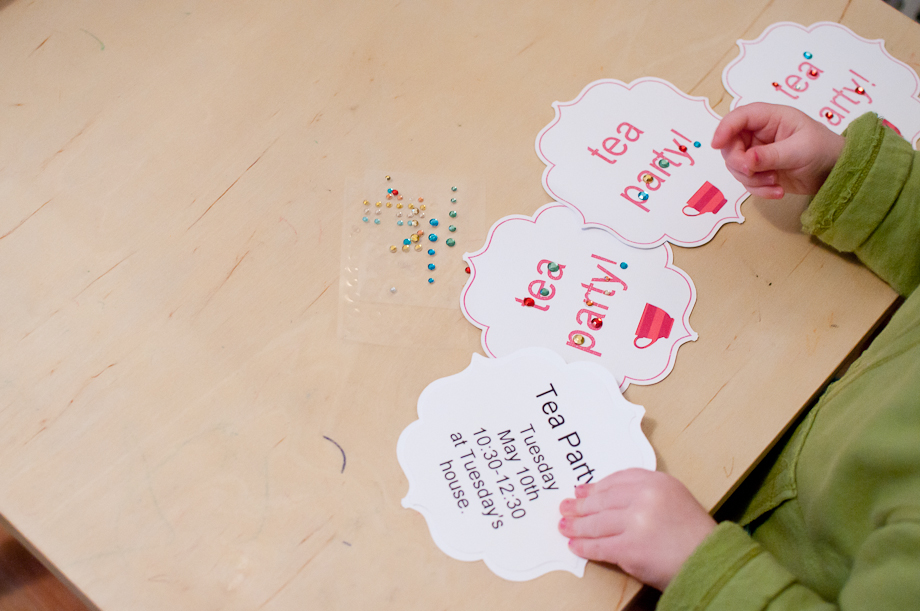 Now of the actual tea party you will not see many pictures. It turns out five 2&3 year olds plus three babies is a bit chaotic!


(sheet covering up the bookcase) Can you see Chloe's darling skirt? Carmen and I spent a little too much time working on cute skirts (need to take a proper picture of Tuesday's) and not enough time cooking, cleaning, etc. Well I guess since I was the host that was my bad. The place mats were our craft for the morning.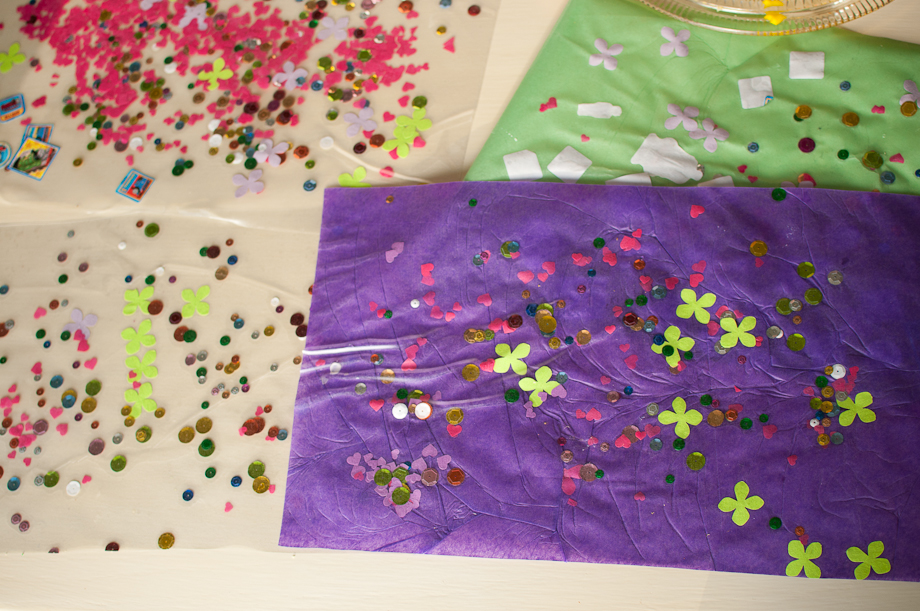 Similar to this project, only with either another piece of contact paper or tissue behind.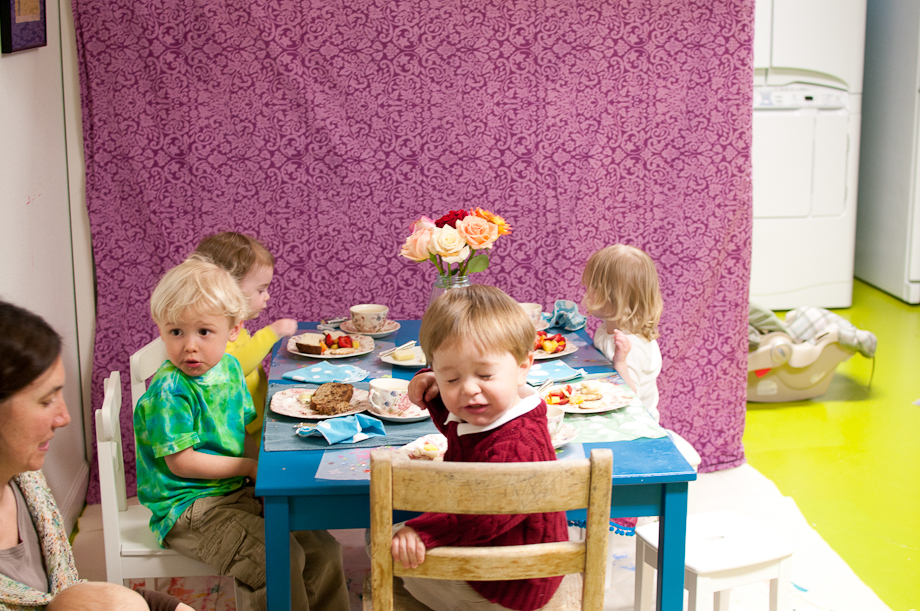 This is Lachlan's "cheese" face. Needless to say when I took his family photos I did not say cheese! We used my great grandmother's china (the stuff I wasn't sure what to do with). Flowers were left over from mother's day.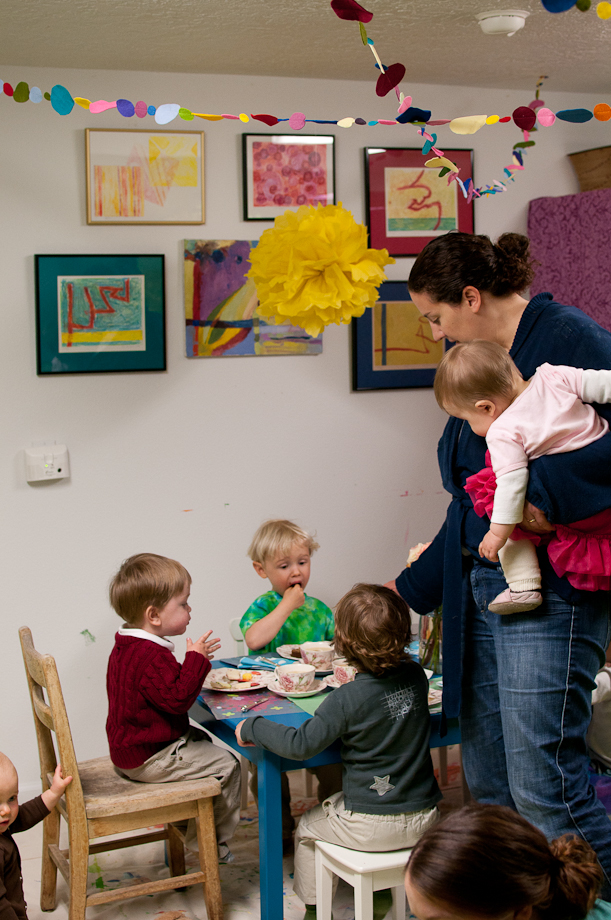 I really should get a better picture of these tissue paper poof things. They were very easy (this tutorial is the one I used). I also hung up the often used birthday garland. As for the food I made little tea sandwiches, 2 kinds (and this was done while the guests were here, oops!). Type A was white bread + cream cheese + cucumber. Type B was Danish salami + little mayo + white bread. Both cut into little squares with out the crusts. For the moms I was like, oops I forgot about us, here's a do it yourself sandwich bar! Haha. We also had fruit. Oh and crackers and butter with little butter knifes to keep them busy when we first came down (of course my kid has to try and eat the whole stick of butter). Another guest brought chocolate chip banana bread. I ate a lot of it.
And we served tea! Very weak and with milk. Tuesday does like tea, but without milk I think. And I think she likes it because I drink it a lot and she loves getting the little tea cups. Then I had to go really crazy and make these little petit fours that I saw on Pinterest. Ok so maybe it wasn't a good idea to try to whip up a from scratch cake and frosting at the last minute. Bj totally ended up making me the cake the night before because, "please babe, I have to have petit fours!!!" They were super pretty (used a gel food coloring) but not so tasty, I'm sad to say.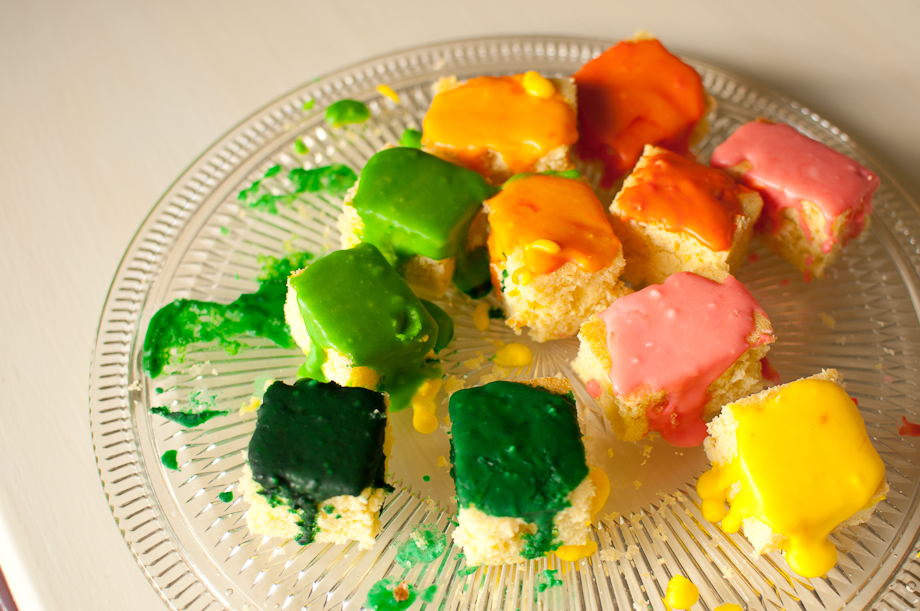 It was a bit of a rush job. I think I should have researched the right cake to use. This one was rated for making the little things, but the bad qualities (texture & flavor) outweighed the good (holds together when cut).
So there you have it our first "real" tea party. First of many I'm sure!