Oh hey, have you ever heard me write about Tuesday's sleep issues? No? Have you been reading my blog longer than a month because it's a reoccurring theme. When she was a newborn I was thrown for a shock to learn that some babies actually could go all day (and most of the night) with out sleeping. Like ever. She didn't take a single nap that wasn't on my breast for the first year. Yes, YEAR. Then somehow when she turned one she started taking a nap in her room and it was so awesome. She woke up happy and played in her crib for a while before calling for me.
Nighttime was a little harder, we couldn't really ever get to her to lay down and go to sleep alone. She never did that once. She had to be totally asleep in order for us to be able to leave the room (oh and, as an added bonus she did not want to sleep with us, oh no, that would have been too easy). So we've been rocking/singing/dancing/back patting/etc. her for up to three hours every night for her to sleep. And that didn't get her through the night. She has to pee every night and that woke her up. So around the new year we ditched the crib and put the mattress on the floor so she could take herself to the bathroom in the night, instead of us getting up just to lift her out (she never figured out she could climb out of it). Then we had wake up issues, and just all sorts of annoying set backs.
Oh and by the way I'm pregnant and freaking out about having to rock two kids to bed for hours every night (how would that even be possible?!?), get two kids to the bathroom in the middle of the night, and have two kids not napping (oh because by the way Tuesday is growing out of the nap). I think you can see the writing on the wall there, it would not end well. Or at the very least my prospect of ever having time to knit or scrap again would be non existent.
I've asked people for advice. Or rather, told them the situation and they offered me some. 9 times out of 10? "Let her cry it out." "Get a lock for her door and just leave her in there." The other 10% was something like, "I've been there, good luck." We did briefly try letting Tuesday cry when she was younger and it was the most horrendous thing of all time. I got the book from the library and followed it to the letter. Every night got worse, not better. And her mattress was soaked with tears. And I felt like the most evil human being on earth. Then the next morning she was a terror, as if to say, "you thought that was a good idea, really?" It may work for some, but it did not for us.
Putting Tuesday to bed lately has been so horrible. She's not happy, we're not happy. She can't get comfy with my belly in the rocking chair; just a bunch of problems. I finally posted to a local mom's group (with a crunchy/natural mindedness bent) and begged for ideas. Someone recommend a rewards chart. The thought had never crossed my mind and for some reason I just didn't think it would be good to start on charts and stars. Why? I don't know. I think I just want Tuesday to do everything "right" intrinsically. But I figured I might as well try it, after all it was something I could make with my Silhouette :). So I whipped one up…. boom. First night: FELL ASLEEP IN HER BED BY HERSELF! (first time ever) SLEPT THROUGH THE NIGHT! Star charts… I love you.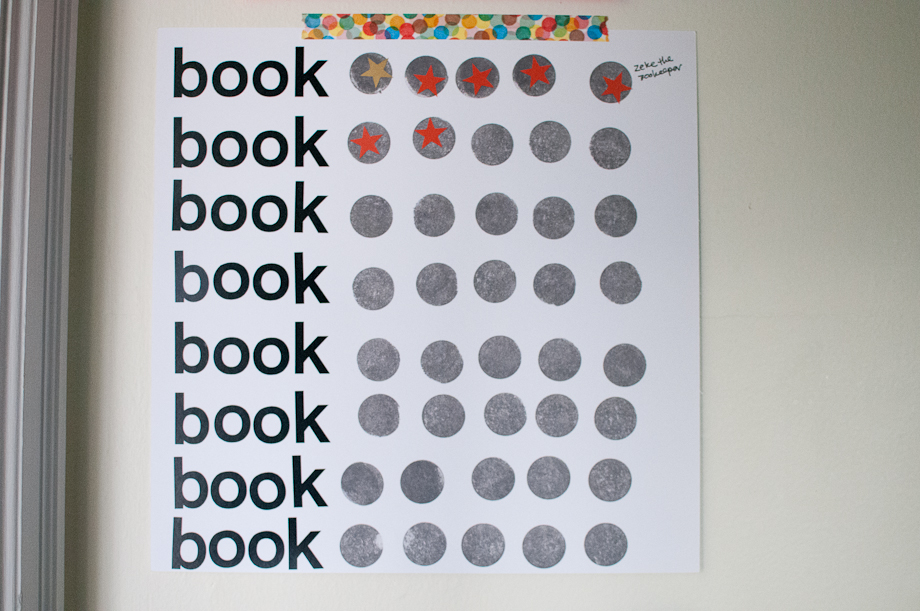 I came up with this star allocation:
1 star for silent reading time (15 minutes), with lights on before lights out (after we read to her, to prepare her for being in the room alone, this is kind of the easy A).
2 stars for going to bed by herself (I stay nearby and work loudly so she knows I'm around, and occasionally she cries down to me. I pop up there at set times).
3 stars for sleeping in her bed all night (she can get up to go potty).
also 1 star for a nice quiet rest time (from 2:30-4 every day, she can play upstairs, read, anything but get into water).
The routine is really slow and drawn out, as it always was, something I just think she needs. We still go up there and get all ready together, read together, listen to some music, etc. And I don't just turn off the lights and leave. After she reads alone I turn off the lights, turn on her fan, and we listen to a few songs together and talk for a bit before I go downstairs. So far she does cry out a little bit. And tonight she told me I was a mean mama. And then she falls asleep in under an hour and wakes up super happy. It's awesome.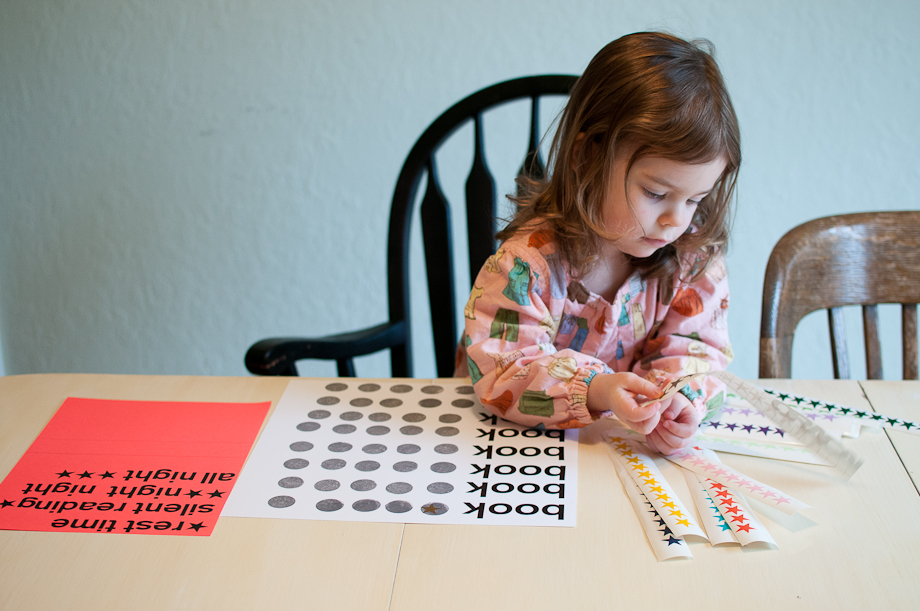 She loves picking her stars (I made them in a bunch of colors) and counting to see if she can get a book. I went to the YMCA's book sale last week and just bought a huge basket full so we should be good for a while. I told someone else, "what she doesn't know is I would have bought her a first edition of a book just to get her to sleep!" ha! A 50 cent book seems like a pretty good deal to me. I think we'll probably end up putting other things on this chart, activities, etc. Books were just what came to mind since she spends about 70% of her waking time with one (and 20% playing coffee shop, 10% eating). I honestly had no idea how quickly she would take to this (a big part of it is her just being ready I think for more independence), so I am a bit surprised how fast she's filling the chart!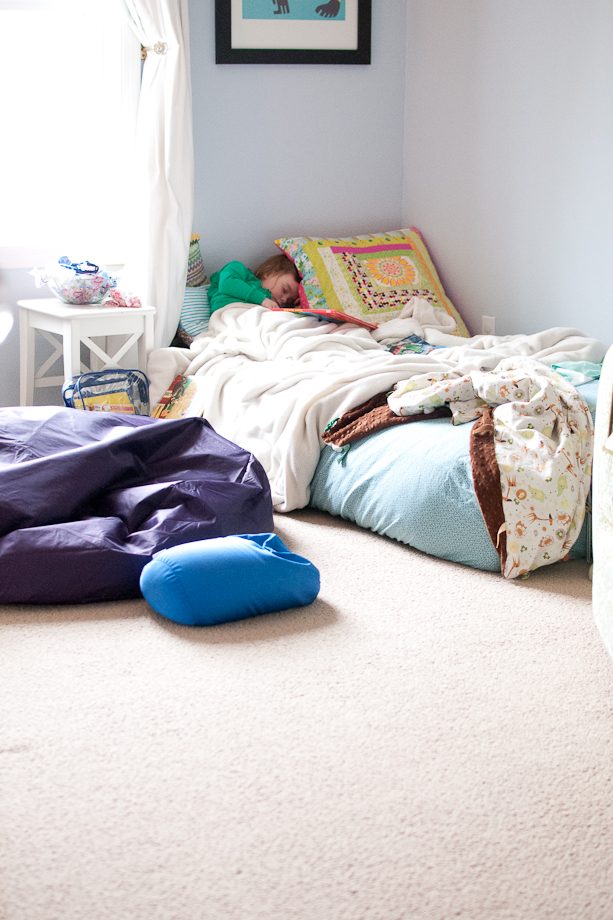 Of course some days, it's just too hard to make it through rest time awake 🙂 I left after this for a freezer cooking date, and Bj said she slept until 6:15. Needless to say that night she didn't earn any stars…
I'll keep you posted, but so far I think we're really onto something. We actually had a dinner guest over and I was able to come back down and hang out with him after Tuesday went down. I did a little happy dance. Now lets just wait and see what the little one inside my tummy has planned for me…!!!!