I had a kid who didn't sleep. Her name was Tuesday and I blogged about this "problem" a few times. Eventually at 38 months she started going to sleep on her own and sleeping in her own bed. A freaking miracle because I was pregnant and FREAKING OUT over having two kids that took hours to rock to sleep every time they woke up.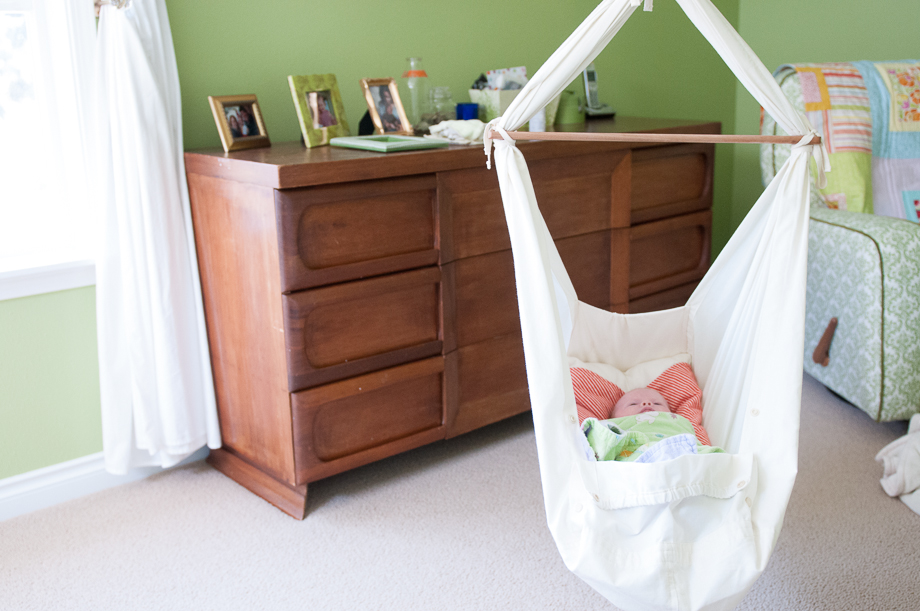 (Bennet so cozy in our room in the hammock)
So when Bennet came along I was super hopeful that she would be chill and drowsy and all those other words that really mean, "wow I have it easy this time." And dudes and dudettes I did have some easy months. She napped. NAPPED. Tuesday did not nap until she was a year old (it's ok if you don't believe me, I would not have either). I nursed bennet for five minutes and she was done. Then laid her in her cute baby hammock and she slept in there… FOR HOURS. One time when we were on vacation at the beach she slept for eight hours in a row in it. I was all, "oh man I have it made. I know; I should sign up for a craft fair and pretend like I don't have a small baby."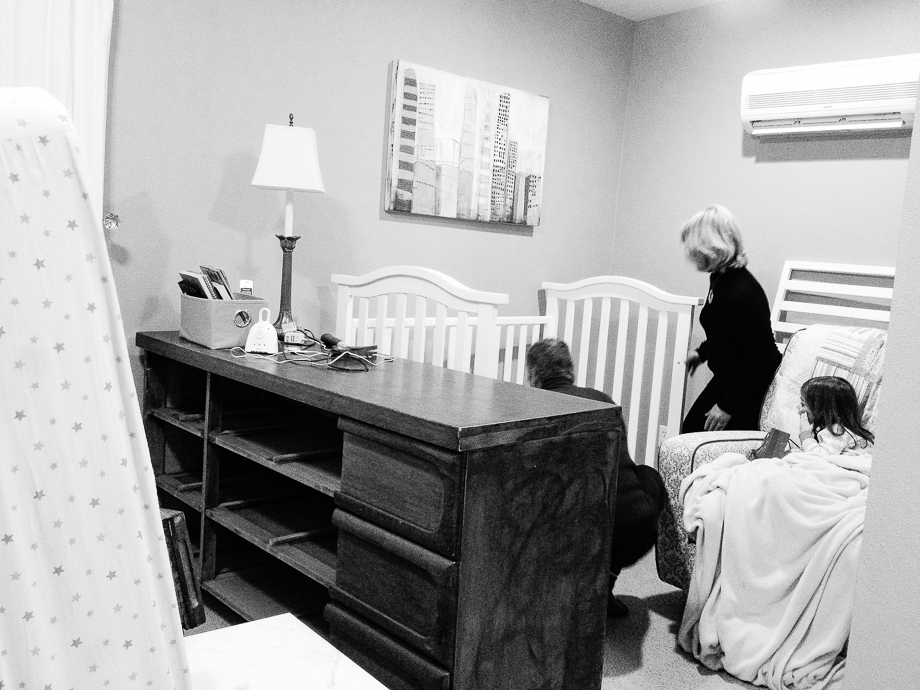 (emergency crib move in – thanks mom and Bill!)
Right around that time said small baby (Bennet, Bennie Boo Boo, but never Benners) started moving. Really moving. Rolling from side to side. I started to get concerned when she tried to sleep on her side in the baby hammock. I wasn't sleeping well listening to her breath with the hammock hanging near the bed. I contacted the hammock people to see of I needed to buy one of the inserts to make the bed more stiff. No they said, "sounds like she has out grown the hammock."


(Tuesday waiting for me.. Bennet asleep or nursing on my lap)
People things haven't been the same around here since. And I really didn't feel the need to blog about it again because we've been down that road before. Then I read a post from another blogger who talked about her 3 year old not sleeping and it made me feel better. So I decided to write this out. I'm sure it will be good to look back on for me (and my children if I ever figure out how to print out the blog).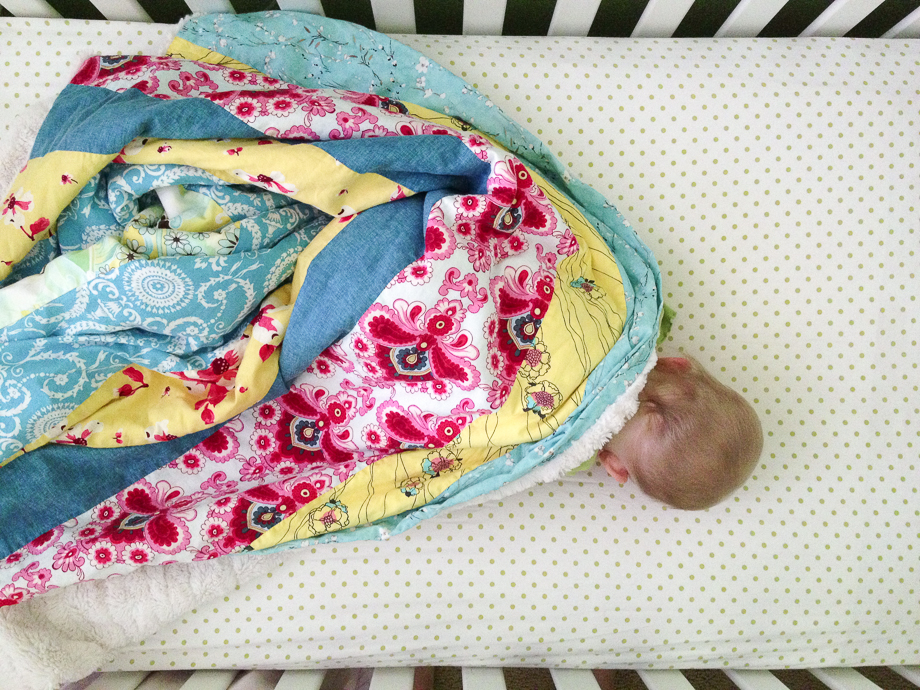 (ya, she sleeps smack on her face – I KNOW THIS IS BAD, YOU DON'T HAVE TO TELL ME. Just try moving her, I dare you.)
So here's the situation now. Bennet will sometimes nurse to sleep. Sometimes one of use dance/sings her to sleep. Some times she stays asleep for a few hours. Her favorite time to wake up is about a half hour after I get in bed. You know, right when I'm falling asleep. I change her, nurse her and each time she wakes the intervals are less and less until I've only been in bed for an hour and she's up again and now it's morning. AHHHHH. I hate it. I'm tired. And I have this fantasy that if I just got eight hours of sleep (or seven, or if it's in a row six even!) everything would be perfect. The house would be clean and we would eat perfectly and I would have time to do absolutely everything! Of course this is not true, and deep down I know it. But, but well, it is difficult when I read about people who are complaining about a newborn waking up once a night. Cough, cough. You're kidding me right? Pro tip, if you don't want to wake up at night don't have a baby.
To all of the mamas and papas (and super patient siblings) who have babies in the house not sleeping, this is for you. And if those babies are three, four… I feel your pain. It is ok to hate posts about a baby who sleeps twelve hours at night AND takes five naps. You know what? Those are some lazy ass babies. I can tell Bennet tries her very best to sleep as little as possible, just like her sister. And I guess you have to give them some credit for that.
Here's to you non sleeping babies, toddlers and kids (oh ya, Tuesday gets up at night again, did I mention that?). You keep us guessing! We'll keep trying to roll with it. And please don't complain about instant oatmeal for breakfast, if you really want something better sleep already.