Oh my sweet "baby girl" is four! I can't quite believe it!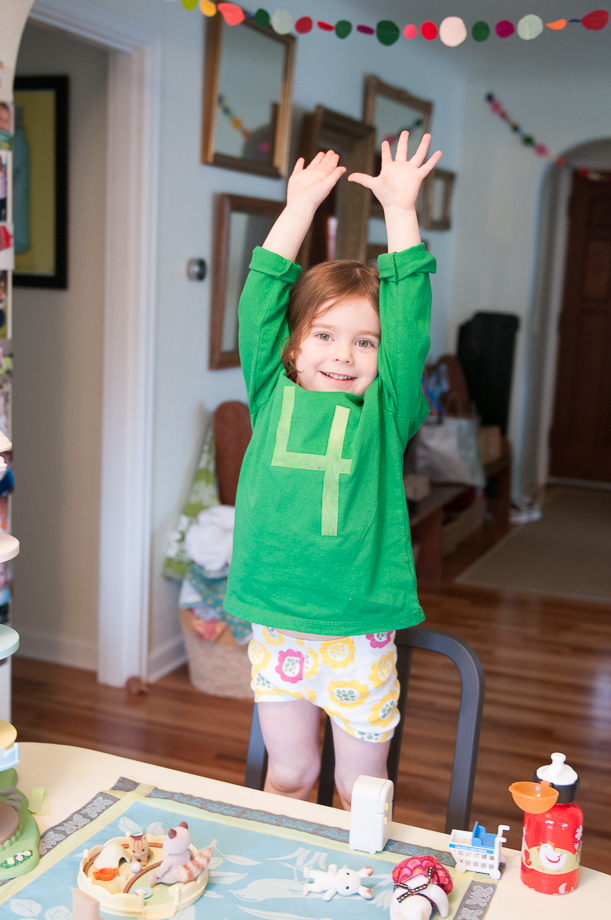 She requested a green shirt with a green four, so of course mama had to deliver. I traced a hand drawn one of fabric so it was more like the "4" she is learning. A tiny bit of interfacing on the back of the shirt is making my machine appliqué on tees go so much easier by the way. I very lightly tack it down with an iron and then cut the excess off the back when I'm done sewing.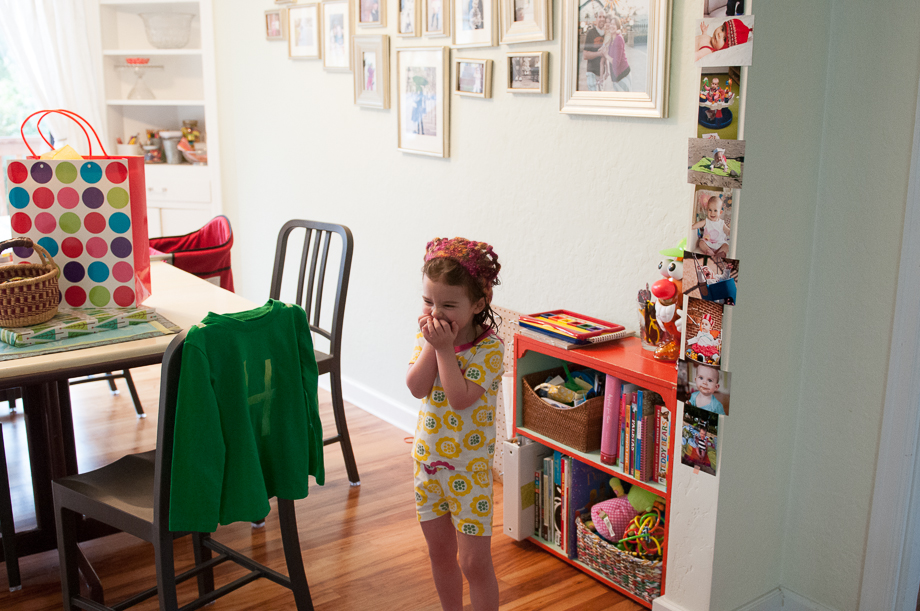 I sacrificed sleep the night before to make the shirt and decided at 11 o'clock that night that I should put up pictures of her first four years (and I didn't even have them printed). As you can see it was very much worth it. Her Nana made her the sweet crown.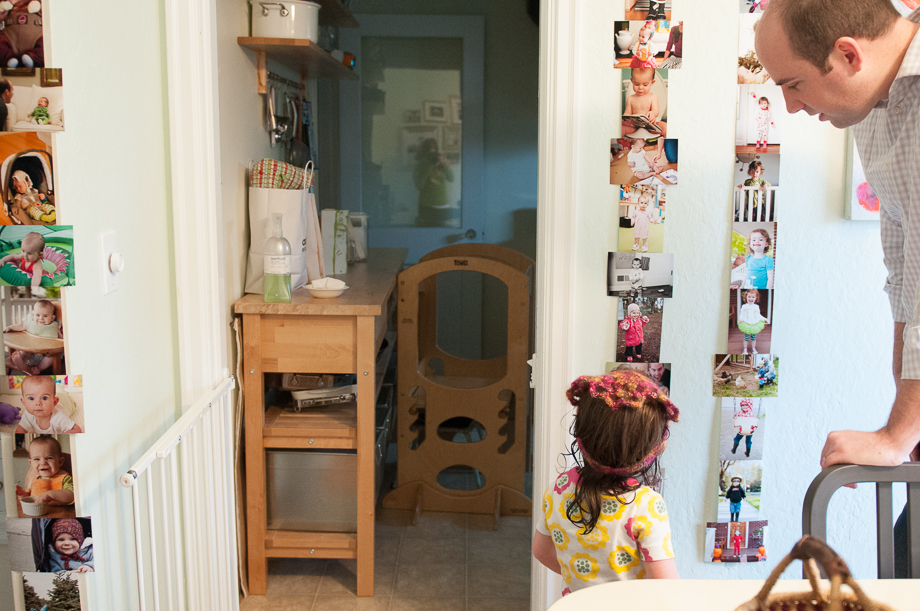 She loved seeing all the pictures and talking about when she was little. It was really fun for her to see pictures of her at the same age as Bennet, doing the same things (riding in the infant carseat, playing in the exersaucer, etc.).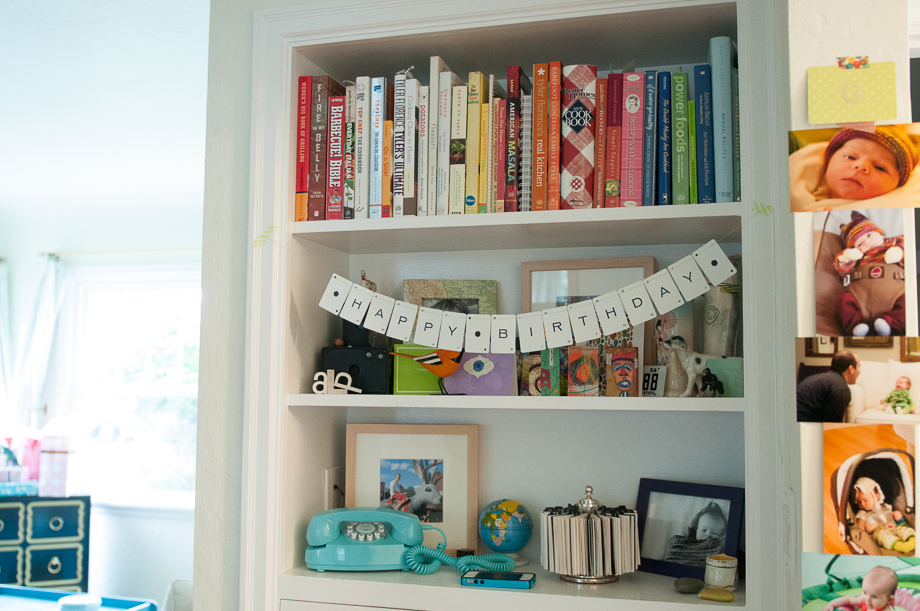 Sarah made me this sweet banner from old game cards (and she's selling them in her shop too).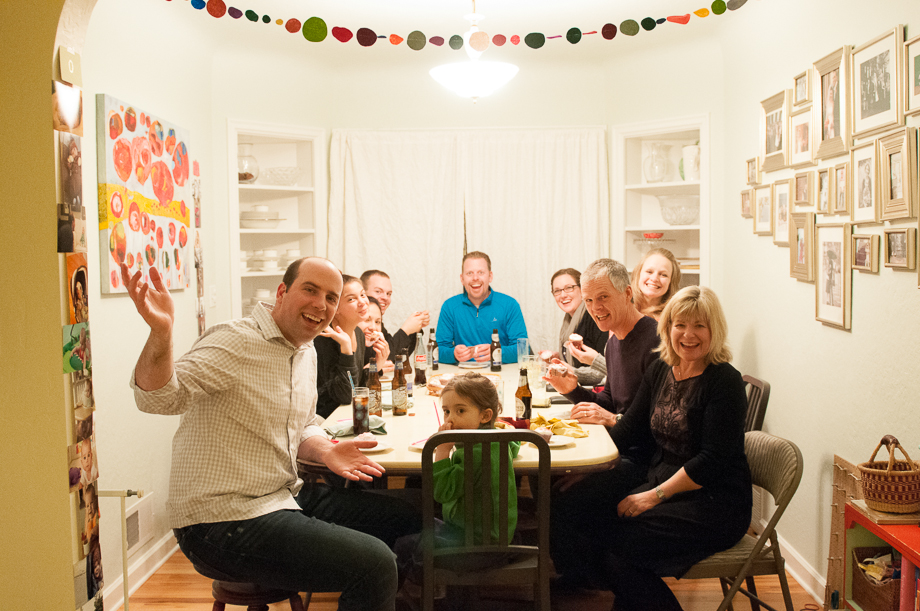 We were able to have a big family dinner the night of her birthday. She requested homemade pizza, and got it. She was a bit overwhelmed by all the attention on her and started crying when we said it was time to open presents, but she came around.
I was going to post about her car party, but I'll do that in a separate post, I've been drafting this one for a week as it is!
And of course, the survey at four years (see three years here).
1. Favorite color? Bright Pink
2. Favorite toy? Playmobil
3. Favorite fruit? Apples
4. Favorite TV show? Thomas
5. Favorite thing for lunch? Silly lunch (what we call muffin tin lunches)
6. Favorite outfit? Pink
7. Favorite game? Busytown
8. Favorite snack? Bunny Crackers
9. Favorite animal? Teeny Tinies (small animals I guess?)
10. Favorite song? Raffi
11. Favorite book? I'm Fast
12. Best friend? Mama
13. Favorite cereal? Gorilla Munch
14. Favorite thing to do outside? Clean up the garden
15. Favorite drink? Juice
16. Favorite holiday? Opening Presents
17. Favorite thing to take to bed? Teddy Bear
18. Favorite thing to eat for breakfast? Soup
19. What do you want for dinner on your birthday? Homemade Pizza
20. What do you want to be when you grow up? A Finger knitter
21. What do you want to do when you grow up? Eat