Oh sweet, sweet Tuesday, my five year old! How quickly it happens, as they all say. And I've loved every minute!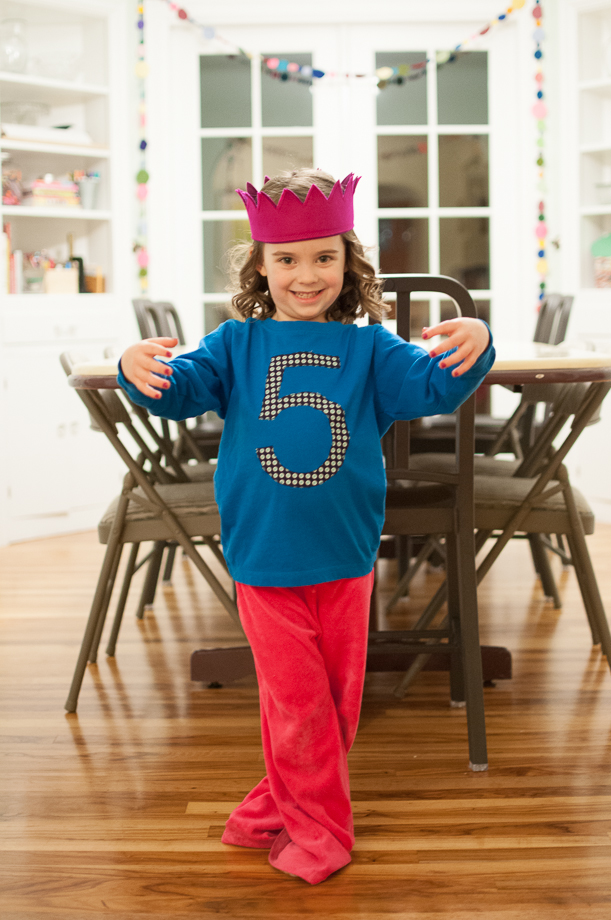 I celebrated her trips around the sun with pictures from five wonderful years, and had all this set up so she would see it when she woke up.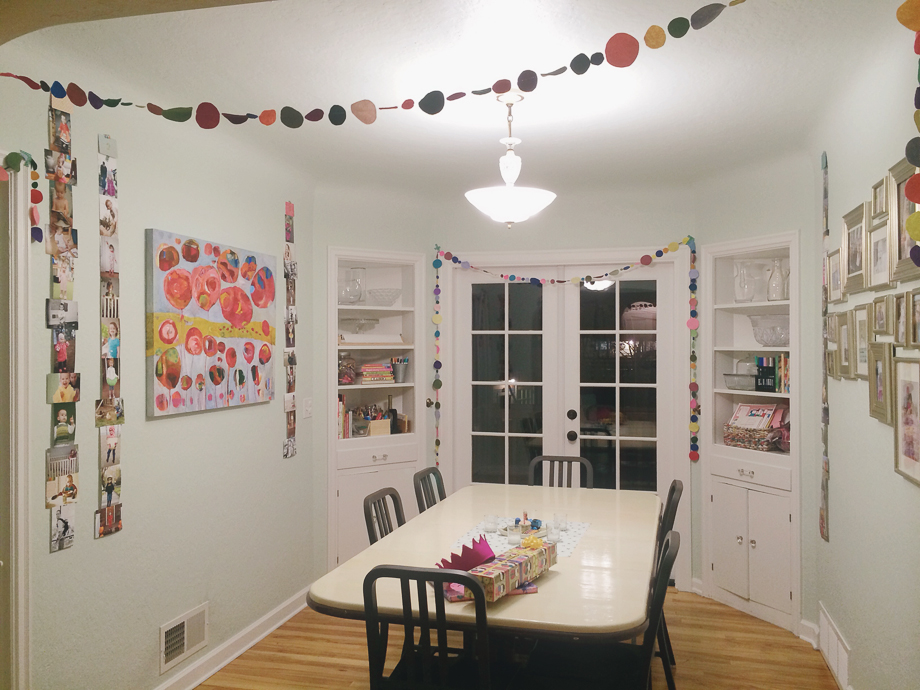 She was not as surprised as last year (the first year I did this), but loved it none the less. I'm glad I stayed up until one making the crown (a last minute decision). I used the PDF from this tutorial, but none of the directions. I assumed she'd want to wear it all day so I sewed it instead of using adhesive. I was right, she LOVED it.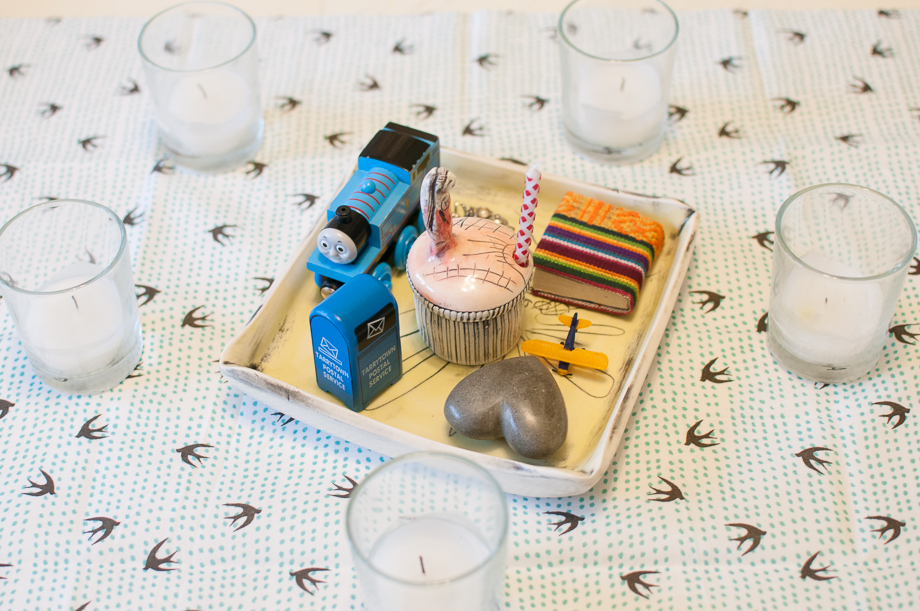 I fell in love with the Waldorf birthday ring idea, but just couldn't justify buying one (though I came really close!!). I decided to set up something similar using stuff we had around. The candle in the middle is from a favorite artist of ours, Barb Campbell. The objects represent years. I had Tuesday walk around the table (the sun) for each year, talking about that year while holding up an object. I held up the plane first, "In your first year we traveled all over the country to visit friends." then the book, "When you were one you learned to love books" the mini tea set (hard to see), "When you were two you loved to play with your indoor and outdoor play kitchens." the train, "When you were three you loved trains." the mailbox, "When you were four you loved to make mail and dress as a mail carrier." The heart just symbolized how much we love her and how excited we are for what five will bring. She freaking loved this, it was a hit and for sure we will do it again.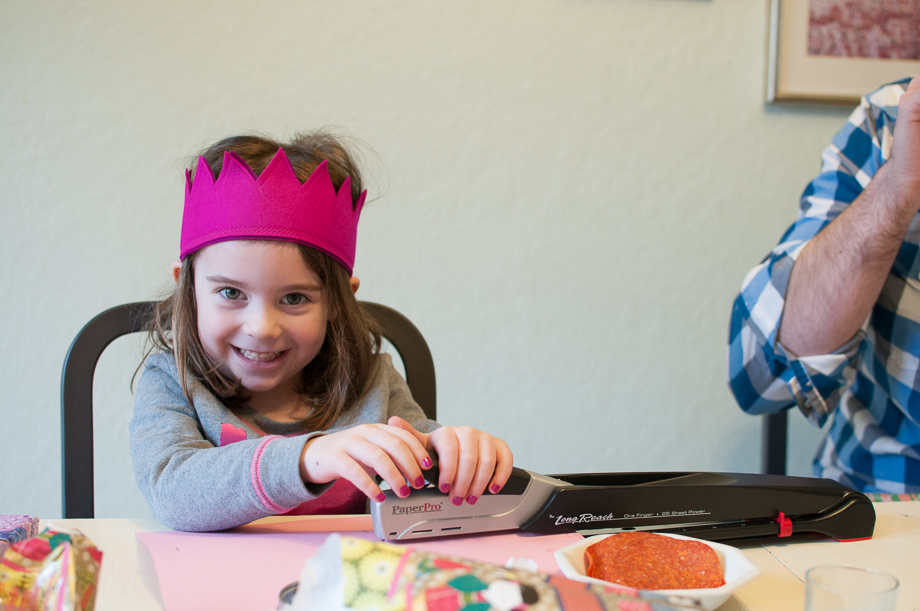 She got a long reach stapler, a book about making books, and a book about trains (found at Goodwill, a nice coffee table type) from us. She's never asked for a specific present for a holiday, I honestly don't think she realizes she could. So yay, we get to choose.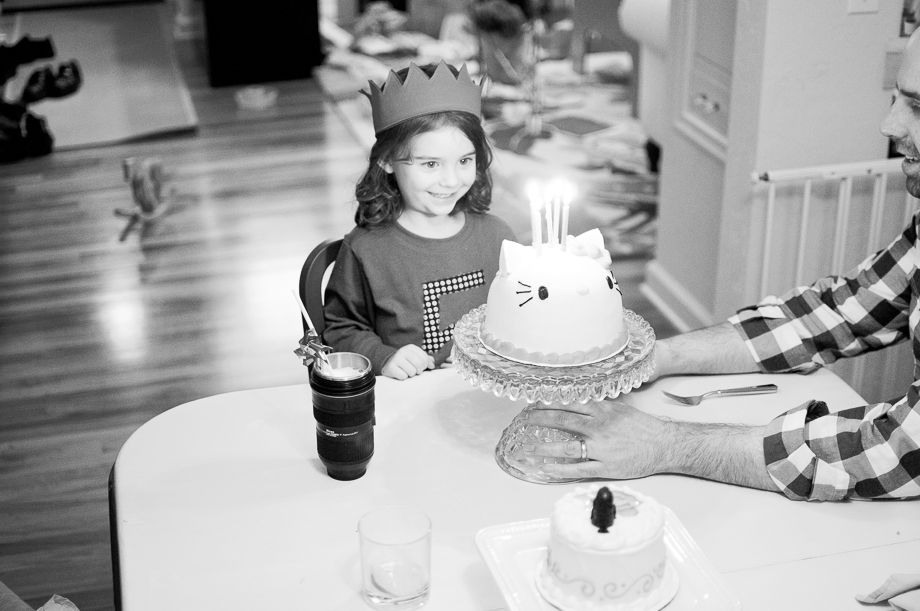 An ice cream cake. In addition to the candy and orange juice for breakfast. Dish of pepperoni slices for lunch, and homemade pizza for dinner (with warm frothed milk). Ha! When a five year old can eat whatever they want I guess that's what you get!
My favorite thing to do is ask her the yearly questions. We do this just the three of us and wait until she is calm.
1. Favorite color? Bright Pink
2. Favorite toy? Tea sets
3. Favorite fruit? Strawberries
4. Favorite TV show? Thomas
5. Favorite thing for lunch? Pepperoni sandwich (bread, butter, pepperoni)
6. Favorite outfit? Princess dress up
7. Favorite game? Hide and seek
8. Favorite snack? Goldfish crackers
9. Favorite animal? My teddy bears
10. Favorite song? Itsy bitsy spider
11. Favorite book? Tales of a forth grade nothing
12. Best friend? AB
13. Favorite cereal? Cheerios
14. Favorite thing to do outside? Play in the mud
15. Favorite drink? Cold water
16. Favorite holiday? Opening Presents
17. Favorite thing to take to bed? A stuffed animal
18. Favorite thing to eat for breakfast? Cereal
19. What do you want for dinner on your birthday? Homemade Pizza
20. What do you want to be when you grow up? A sewer
21. What do you want to do when you grow up? To sew
Here is three, and four.
After a lovely family dinner the three of us headed to the symphony. We have season tickets for the 2013-2014 season, and it just happened to fall on her birthday.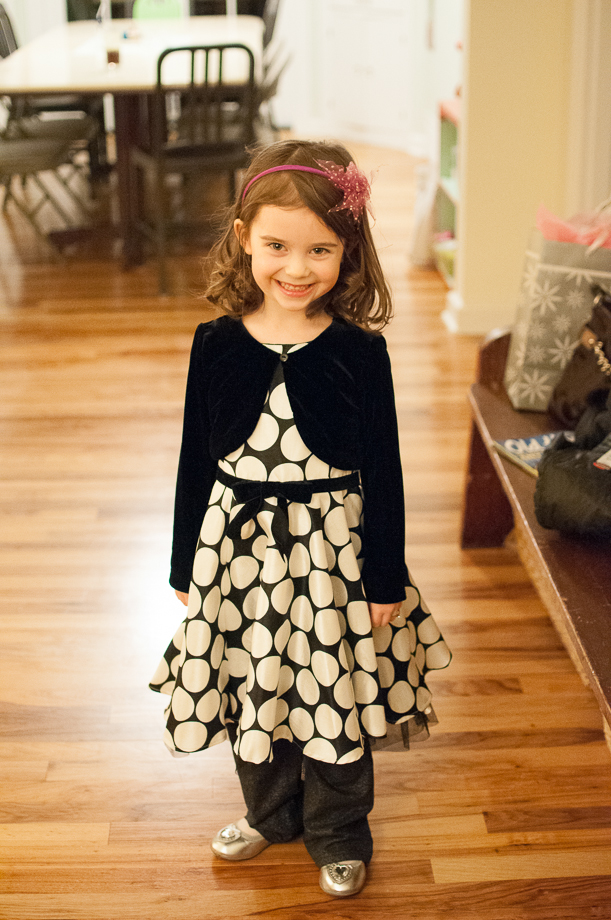 It didn't start until eight, and I worried that she wouldn't make it (or wouldn't be able to sit still!) with all that sugar in her bloodstream! But she did great; only loosing the battle to sleep in the very last movement of Beethoven's Symphony No. 8 in F Major. Which was fine with this mama because I got to snuggle her while listening to beautiful music and thinking about all the things we've done, and all the great things to come.