End of June! That's when I always realize I've planted things too close together! Ha! I make it work though.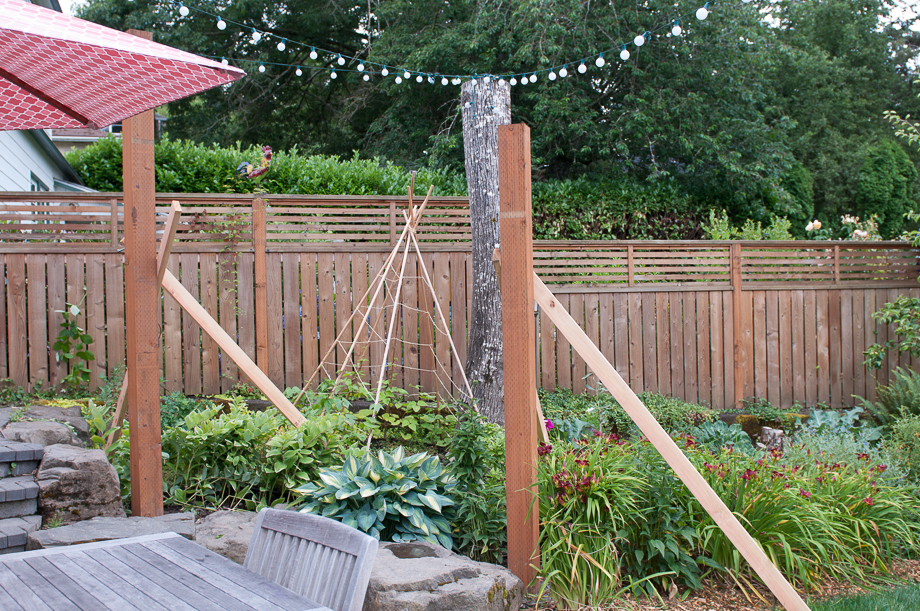 The biggest news this week is that our grape trellis is finally going in! I've been on our handy man's list for a while, but he's been really busy. And then he wimped out on supposedly "rainy" days this week (it barely sprinkled!). Still I'm hoping to have this finished soon. My grapes have been in pots since I bought them in early May. There will be a high trellis that should give us a little shade on the table during high points of the day, and a smaller one that the girls will have an easier time picking from (I chose table style seedless grapes).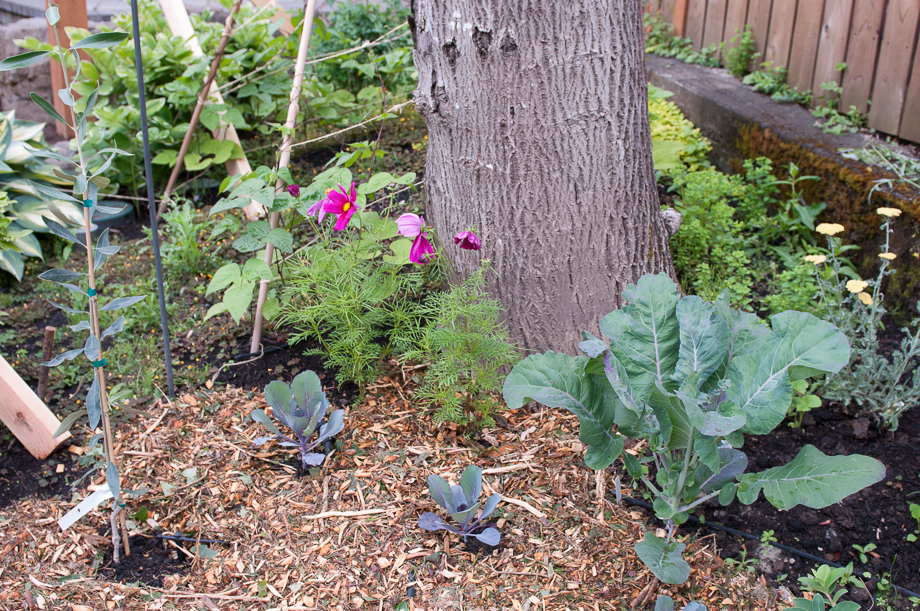 Here you can see the base of the tree. I'm trying my best to attract lots of bees. Especially since ass hats in our state keep spraying blooming Linden trees and killing thousands at a time. Grr. Any way I've tucked in tons more flowers than I usually do in my veggie heavy garden. And I love it! Here you can see one of my olive trees (I think I need to un-stake it), some small cabbages, and one that got a few weeks start (what a difference, huh?).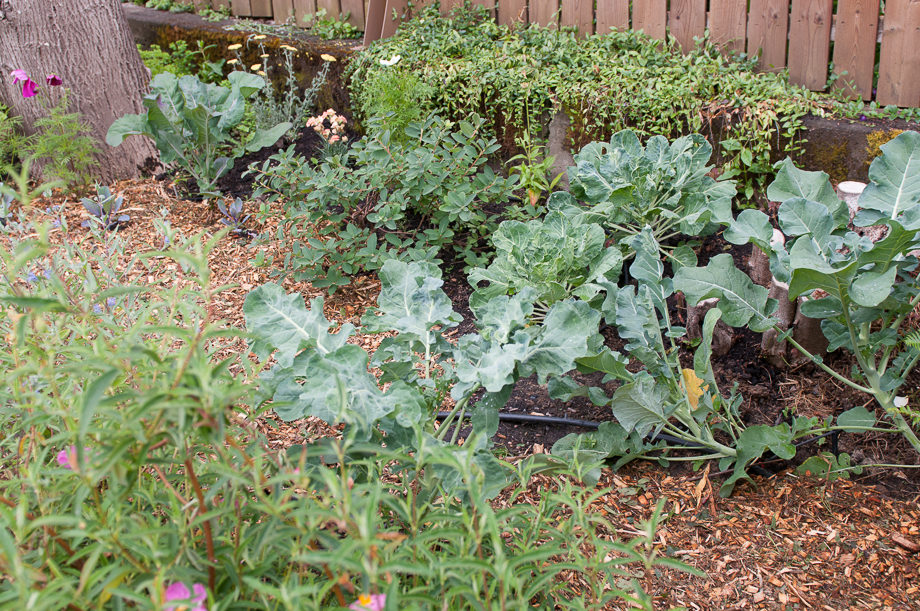 More brassica (broccoli and brussel sprouts – my favorite!!!). Expect lots of pictures of these, since I have to hand pick bugs off them and am very proud that they are this big.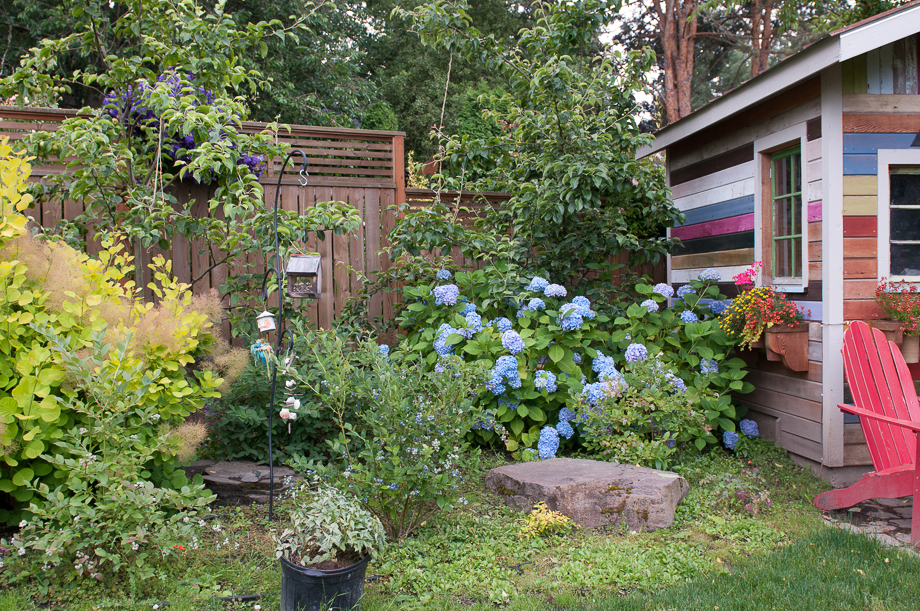 Further down this same side are some yummy fruits. Blueberries that we've been picking for a week, and Asian pear trees behind. The twine hanging off of them is from rocks I had dangling from the branches to train some of the branches. Now that I've done this and the fruit has grown a little more I'm unsure if this was the right thing to do. The books say yes, but the heavier fruit seems to do a good enough job anyway. We'll see.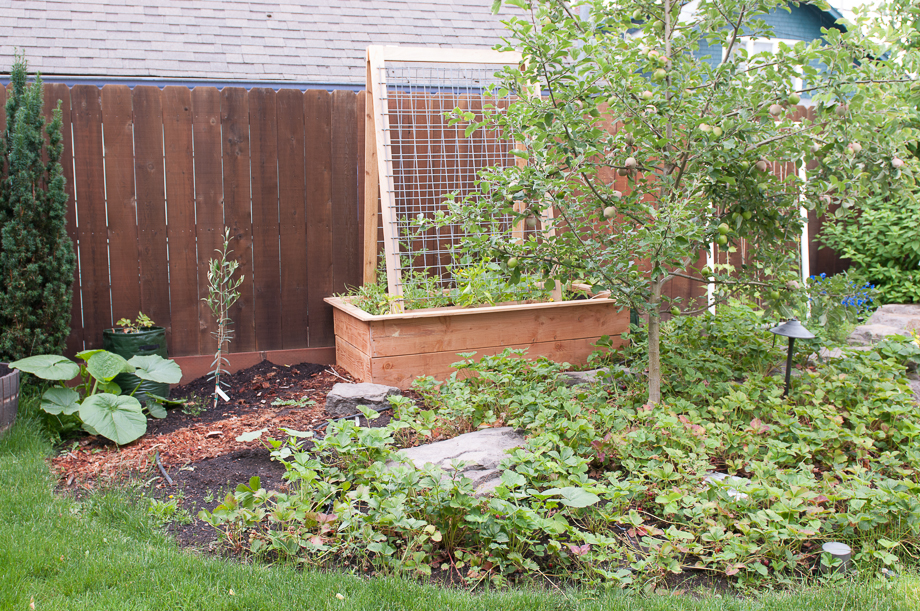 Speaking of fruit: On the other side of the garden I have an honeycrisp apple tree that looks like it's going to be VERY productive. if only I can keep the bugs away! In that vein: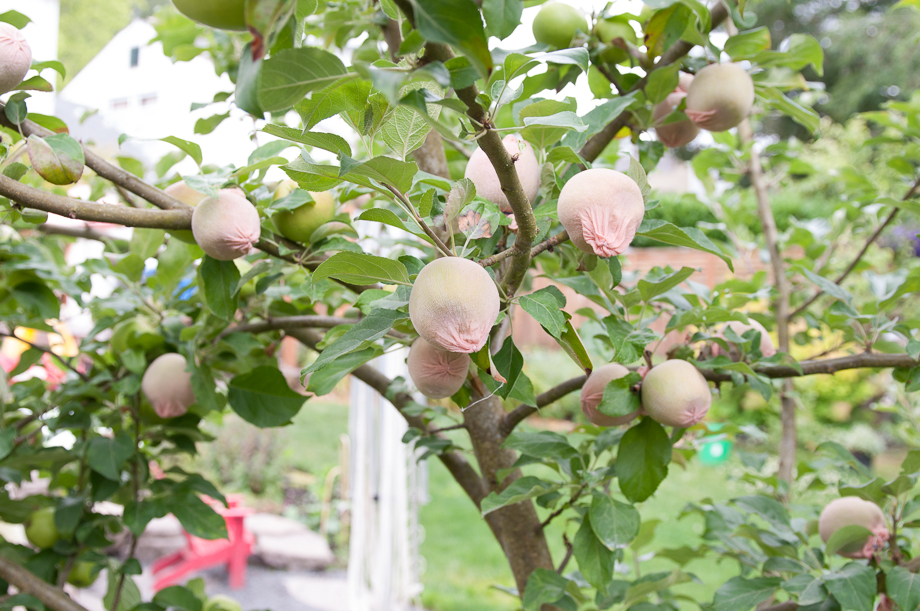 I'm taking my Home Orchard Society's advice and covering the apples with little panty hose type Fruit Sox. I doubt I'll get to every apple, but at least I know I'll have a good amount to eat in the fall. The Asian pears will get the same treatment, but I do believe I was too late on those and a lot show signs of insect activity already (Sox are typically applied in early May here, just after thinning the fruit).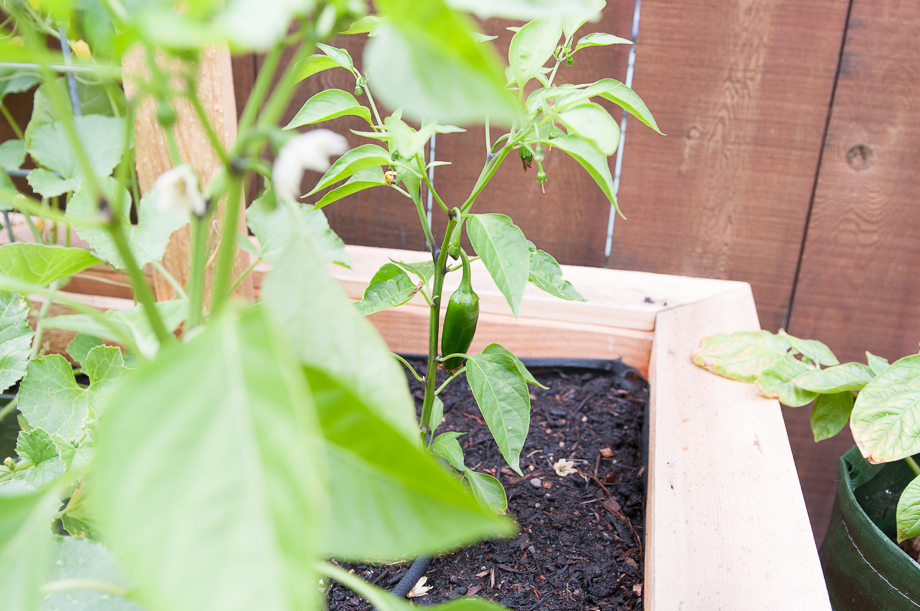 The bed behind this tree gets sun ALL DAY. That combined with careful cloching when the plants were little means I have peppers already! To be honest the melons in this bed could have used additional cover at night. But after nearly baking them one hot day I decided to air on the side of caution and remove it all together. It was a bit of a chore to sneak back there every morning and night and deal with a big piece of plastic. I'm happy to say it held up well and I think I'll be able to use it for many years.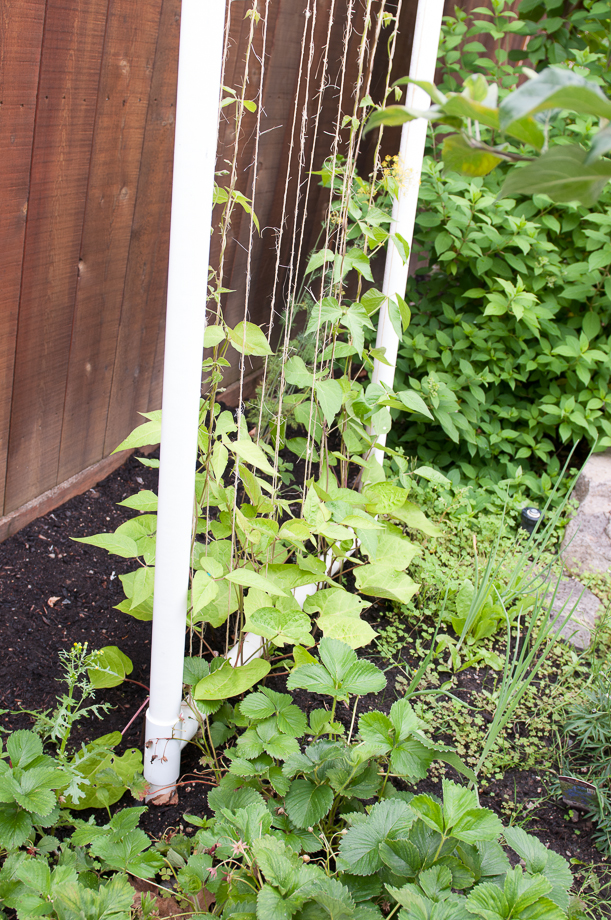 Next to this bed my beans have leapt up (along with many weeds!).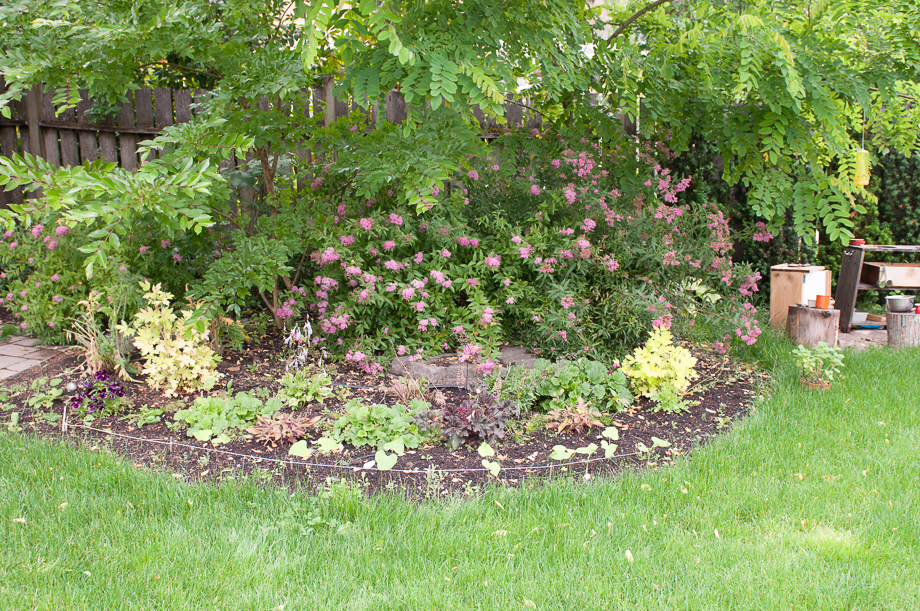 Some bush beans are coming in with the little poppies that I probably planted too late. sorry for the over exposure on this pic. It was about to rain and I was hustling!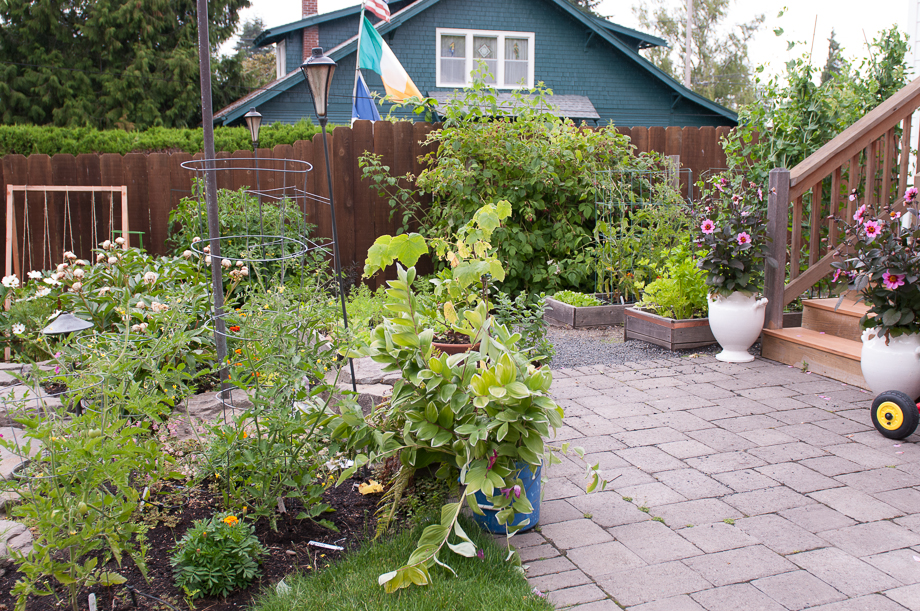 Plants that got removed for the arbor project, along with other pots that are not on drip and keep my on my toes! Tons of raspberries, but we've hardly got any to the kitchen the girls eat them like crazy.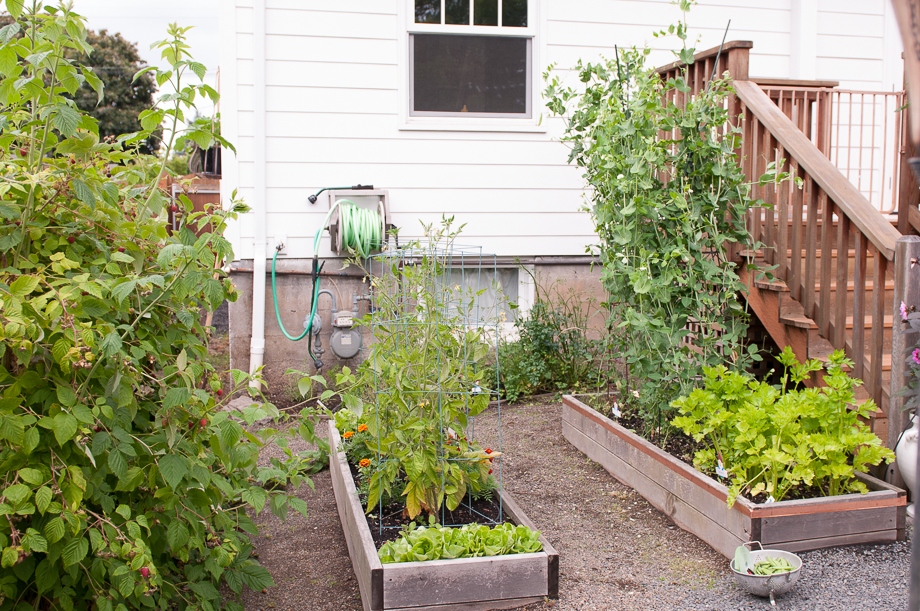 These are my original two beds. Check out those snap peas! They have gotten way over my head and I've had to add stakes to the top, as wind was toppling them over. I did it using this green velcro (Amazon links are affiliate links) that I am loving for tomatoes also. We harvested some celery for a salad to take to our Girl Scout potluck. It was tasty, but perfectly round, I'm not sure why. I saved all the leaves and little side stems for stock.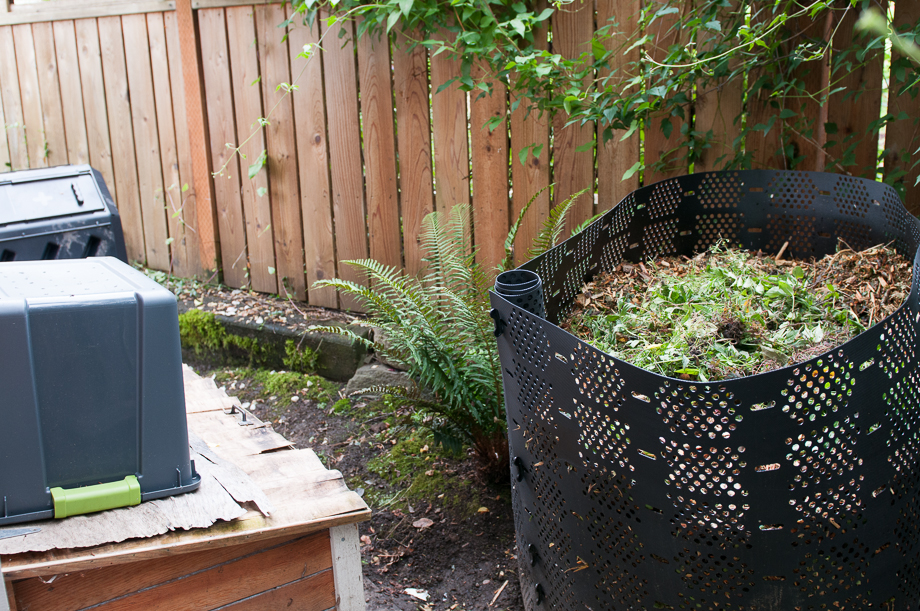 Now my real obsession the past few weeks has been compost. I've never made my own before. Our city gives out free bins to put by the curb and take to municipal composting. I felt good enough that most of our food and yard waste was staying out of the landfill, but recently had an ah ha moment when I bought my 1,000th bag of compost. Um, can I make that? Turns out yes! I bought a fancy tumbler, that is just not doing it for me. I do like that it's closed to keep out pests, but it is S.L.O.W. And relatively small. Because of the size it can't get hot enough to kill weed seeds so I have to be careful what I put in there.  Then I found this geobin. I LOVE it. After 24 hours (with a little help from a friend's rabbit poo) I got it up to 120 degrees!!! It comes apart easily for turning (note: haven't tried this yet, and not sure if I'm going to. I might take the slow road to compost, we'll see), is flexible in size, goes together in a minute max, and very well aerates the compost. The gray bin you see on top of the toy bin is my homemade worm bin. I think I'll save my worm composting trials for another day. Let's just say, man those things can eat!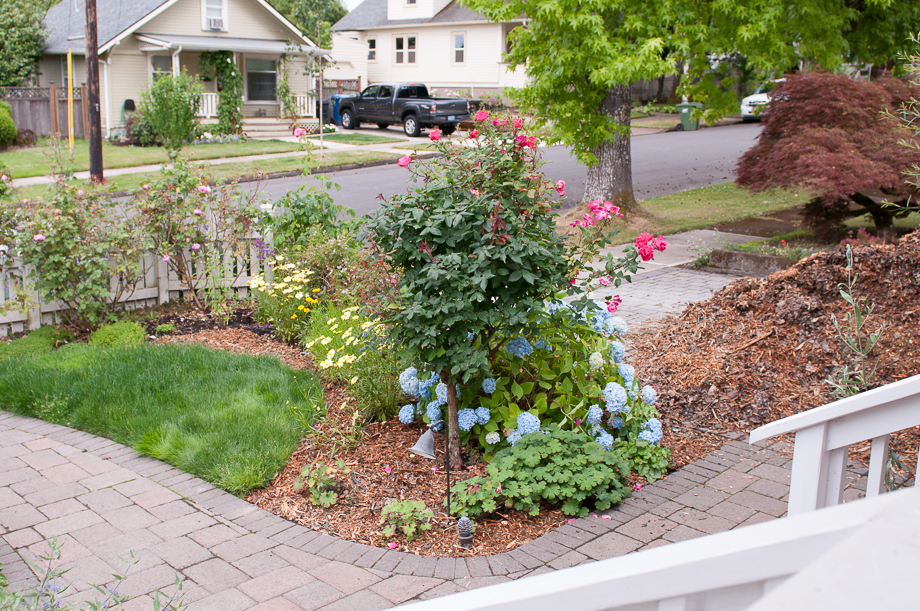 Another thing I'm doing besides composting to keep the soil quality in my yard up is using free tree trimming wood chips (it's a mix of wood chips, pine needles, leaves, and anything else that went into the chipper that day). I was warned that it wouldn't be a "good look" but I quite like it. They should weather and grey, and depending on how they do in the garden I'll reapply them year after year to build deep fertile soil. I did underestimate how much a "truckload" was and am glad I bought a second geobin, as I can put some extra in there.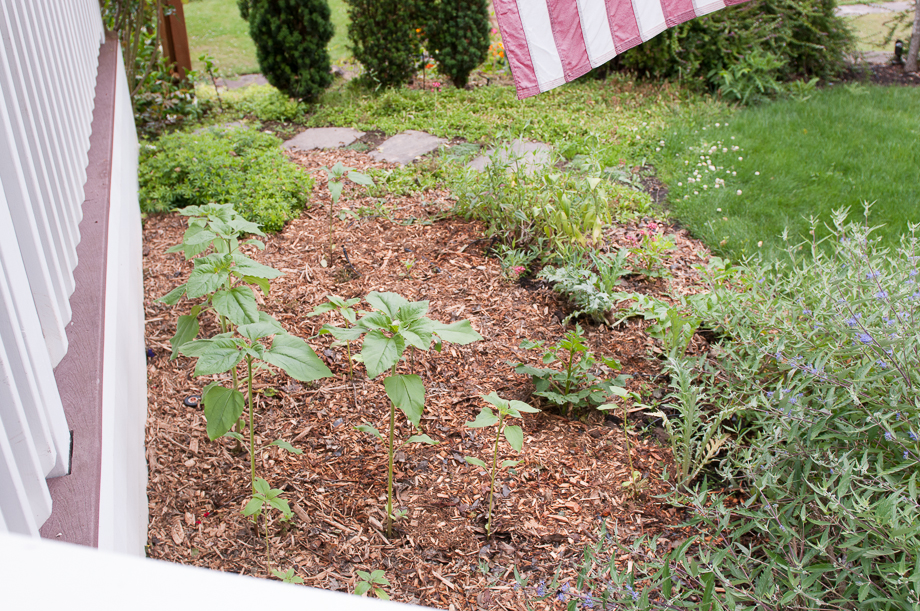 The rain has been conspiring against me to get this all spread out. And I need to because I can't plug in my car until it's moved! Here you can see my (pitiful) sunflower area in our front yard. I hope you can notice how I don't put the mulch right up to the plant stems, that would choke them. I semi weeded before I put the mulch down. Tiny weeds no, big giant weeds yes. In areas where there were no plants I am laying the mulch very thick, at least four inches. I'll report back on this.
Here are some books I'm reading right now about gardening and composting:
Our Life in Gardens (you don't have to be a gardener to appreciate this. A lovely couples 30 year relationship told through plants. The kind of book you pick up and read a chapter of – as it's organized by plant type – here and there. I got this for my mom for her birthday)
Let it Rot (out of all the compost books I've checked out – and it was a lot – this is the one I ended up buying)
Worms Eat My Garbage (I remember reading this in the forth grade and wanting worms. Finally I have them… and they are eating my garbage!)
Quarter Acre Farm (love the writing. Reminds me of Farm City, but not so hard core, at least not yet, I'm only half way through)
Mini-Farming: Self Sufficiency on a 1/4 Acre (I seriously can not stand the thickness of the pages, but I think that's a personal problem)
So how grows your garden?
(My garden in early May, mid May, late May, beginning of June)