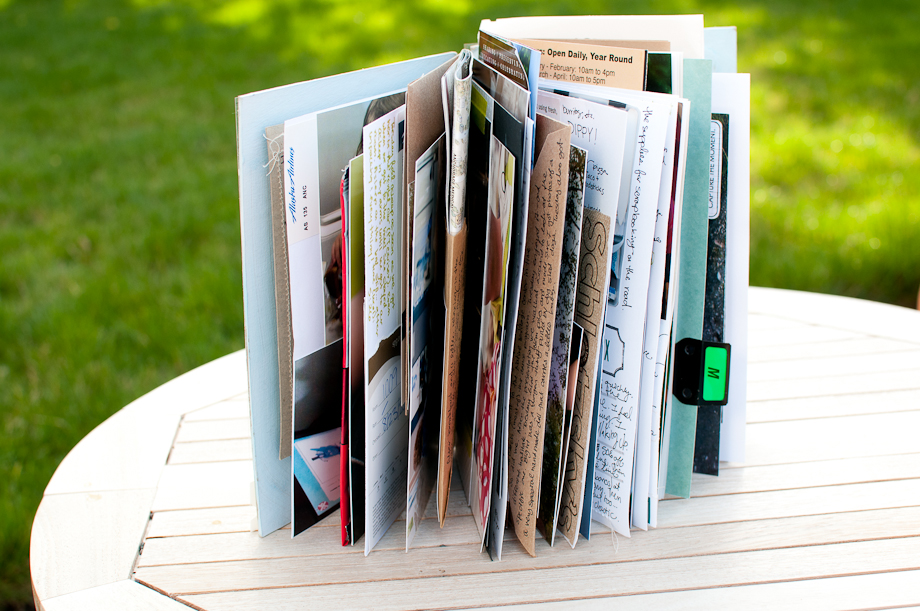 We're back from our vacation up north, and happy to be home after visiting great friends. I am so glad I did this book on the road, for lots of reasons (see blank book here). Mostly I knew I would be too busy to scrapbook the trip if I didn't and I was right. It took me days to finish the last couple of days that I needed to do here at home. I ended up printing all but a two days while I was up in Alaska, and it made for quick finishing up of the book when I got home. I just had to punch everything with the Zutter to put it in the book when I got here. I'll show you the pictures of the book first, and then add my thoughts on the scrapbook on the road process at the end.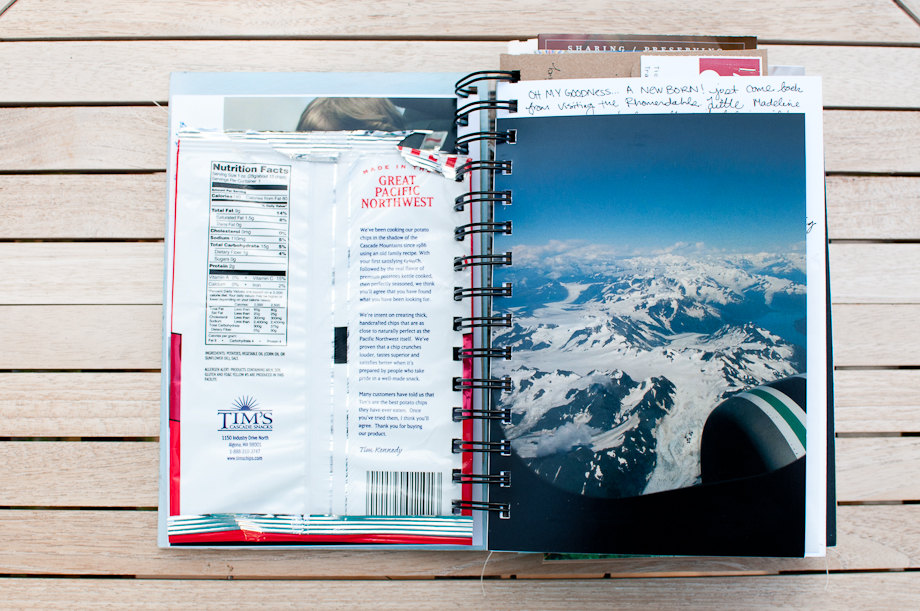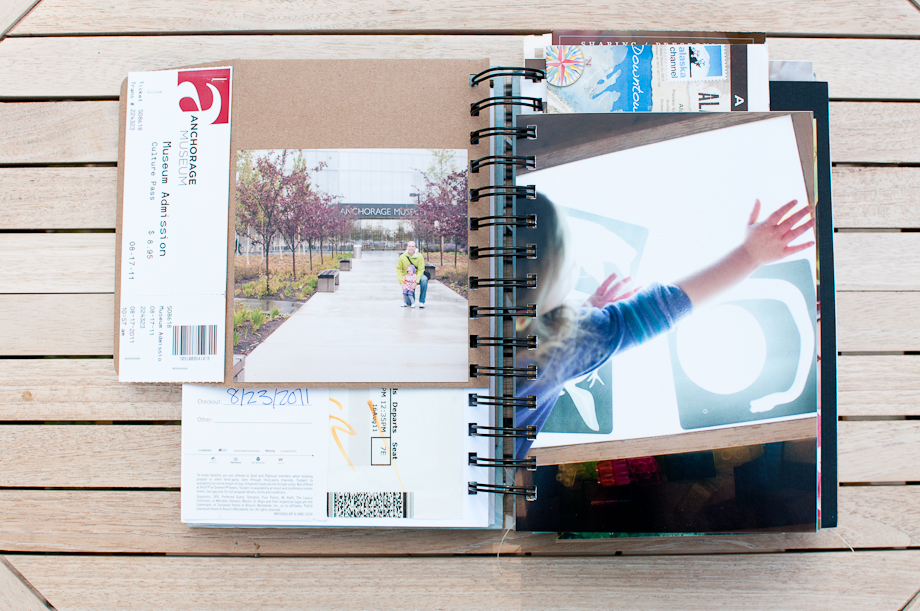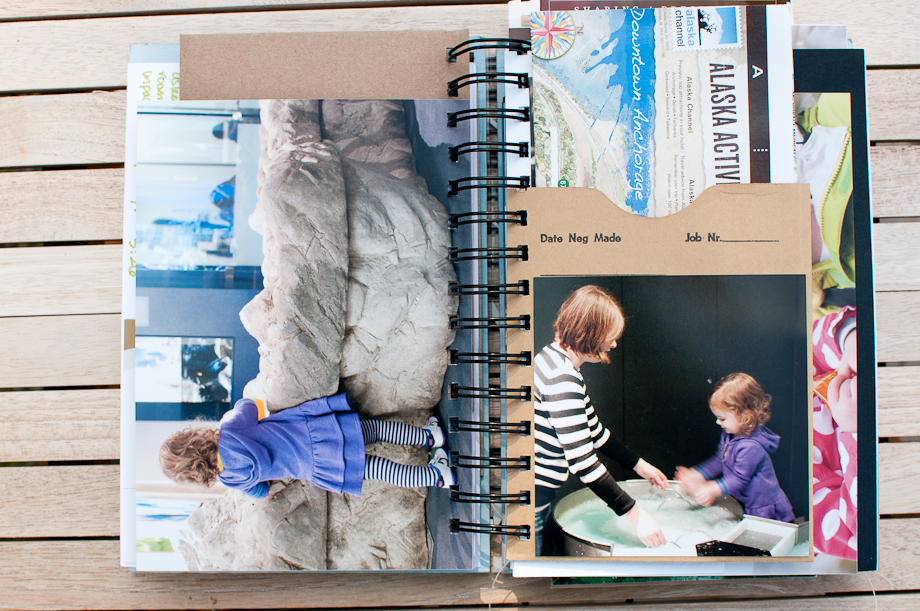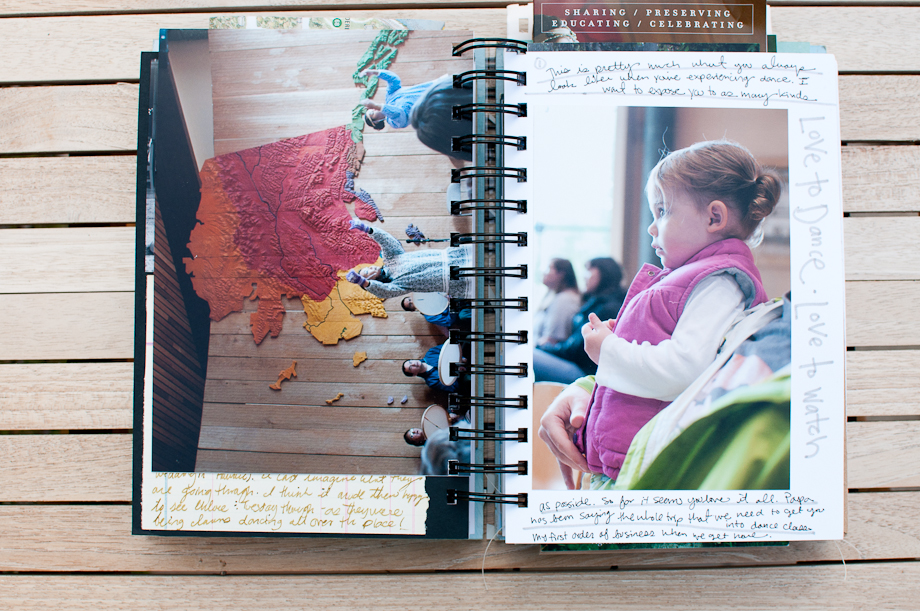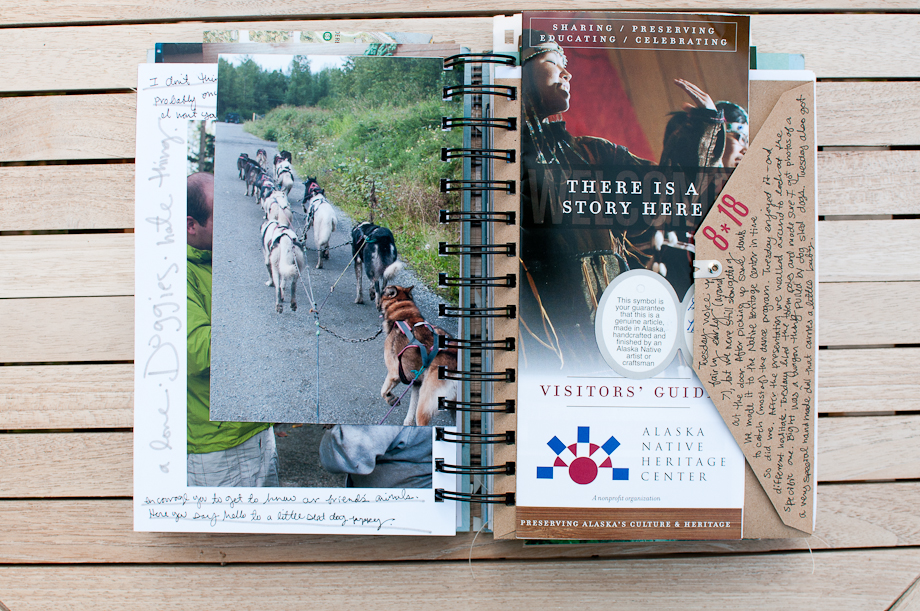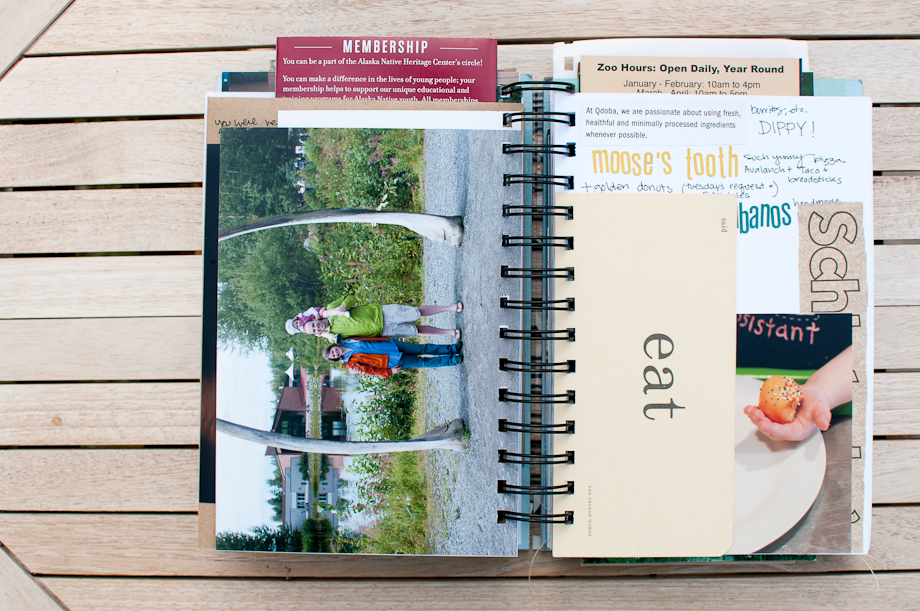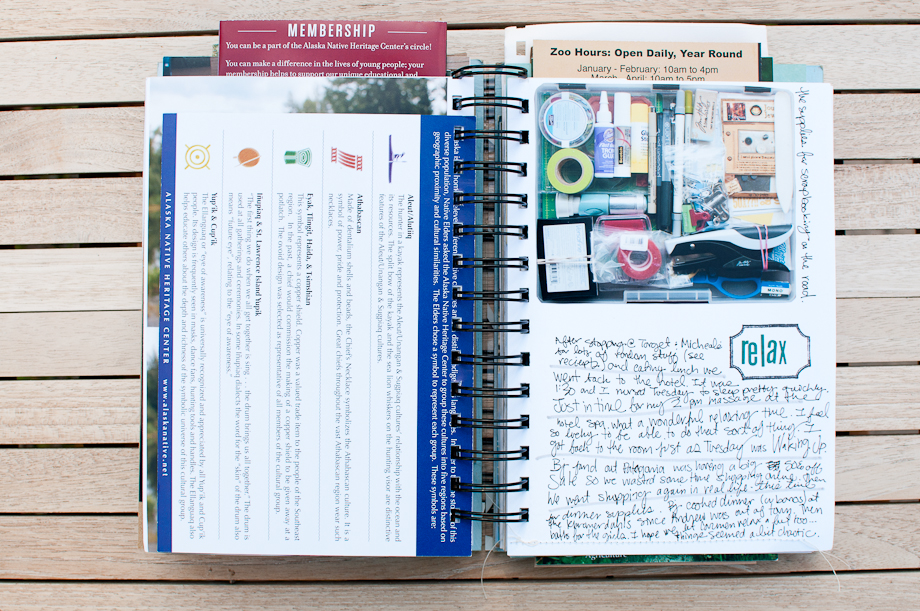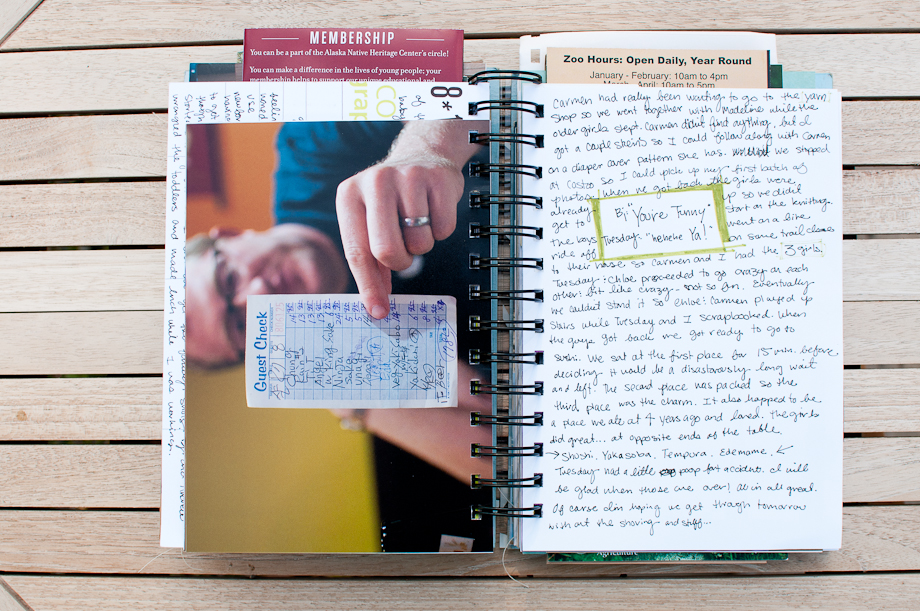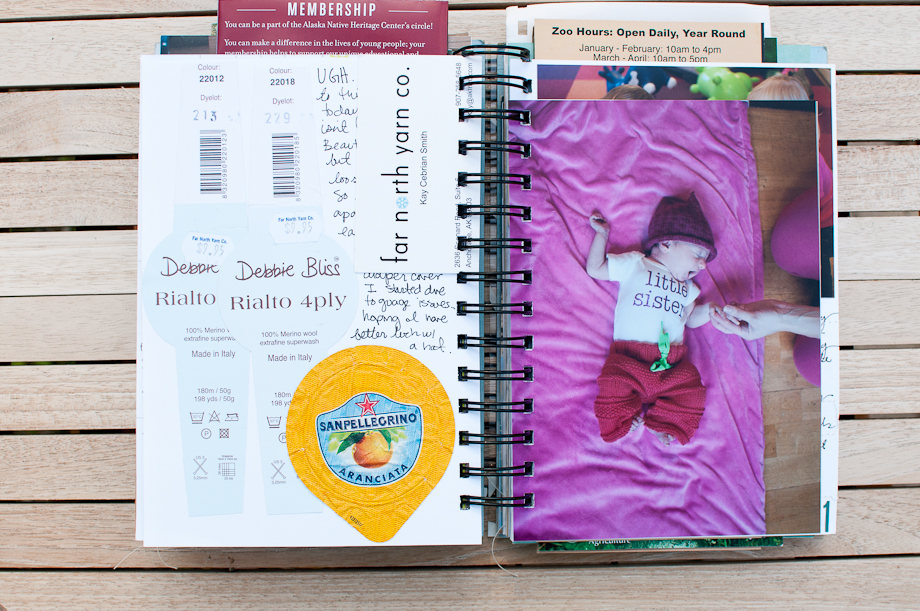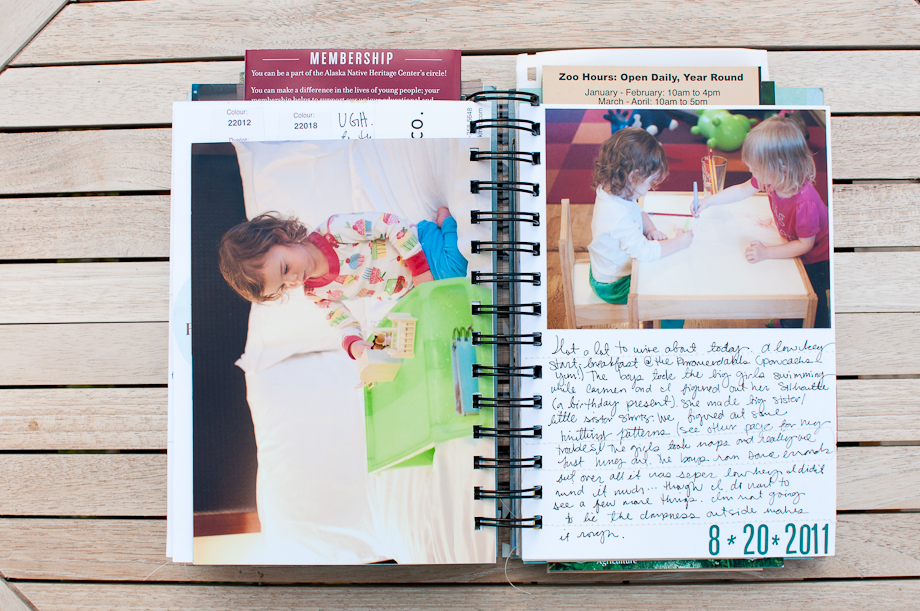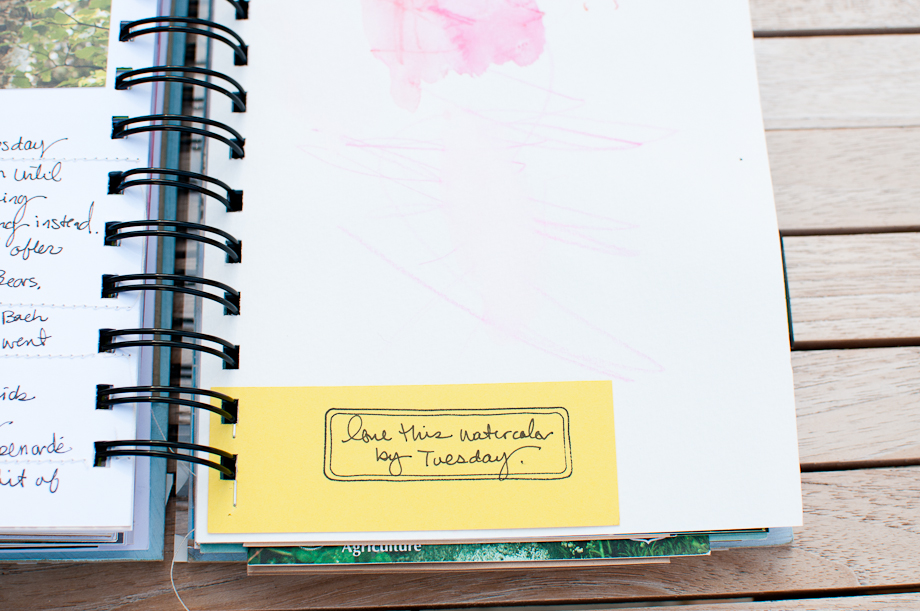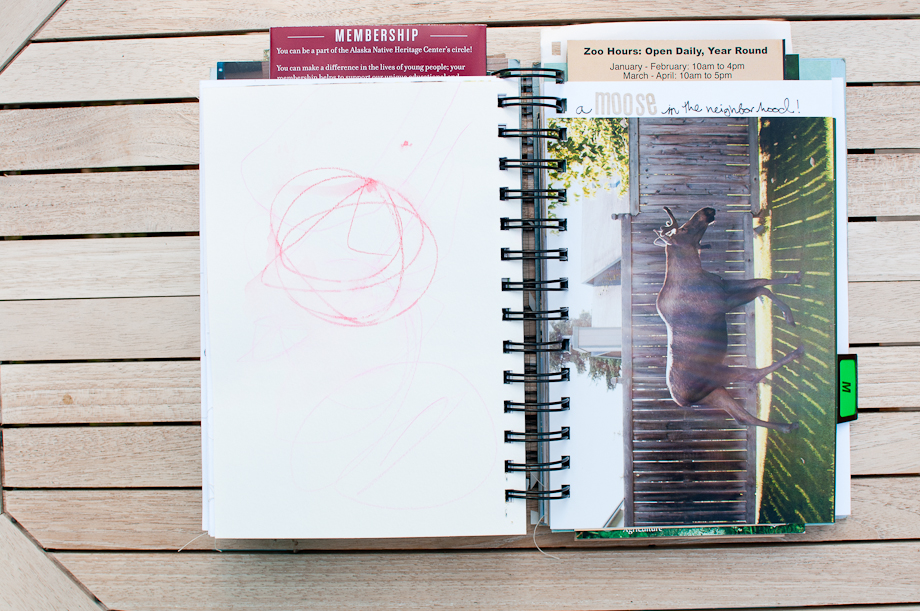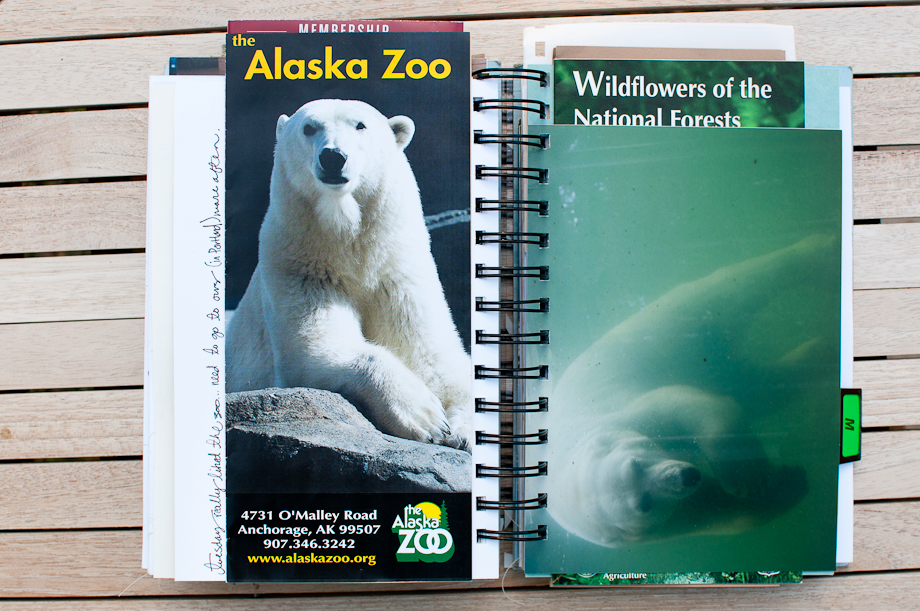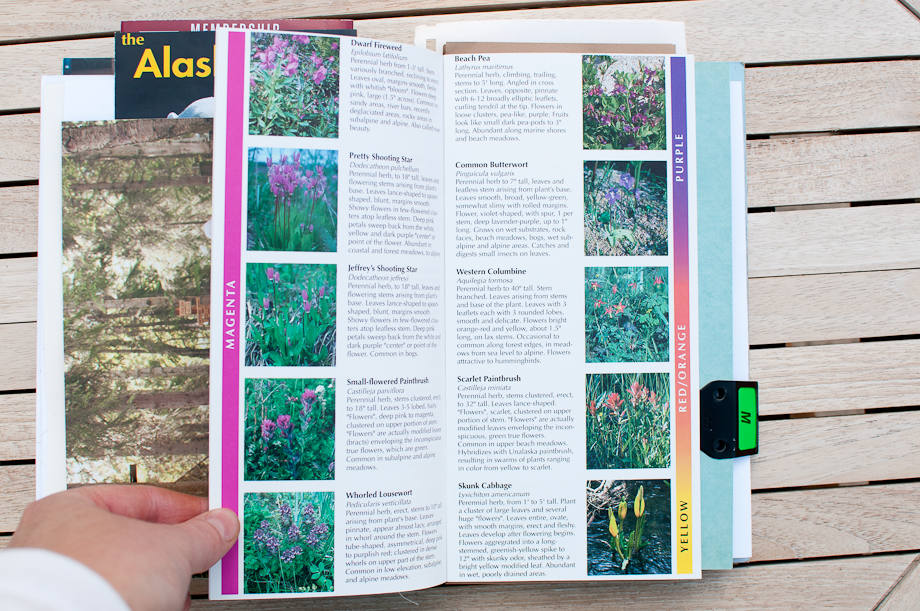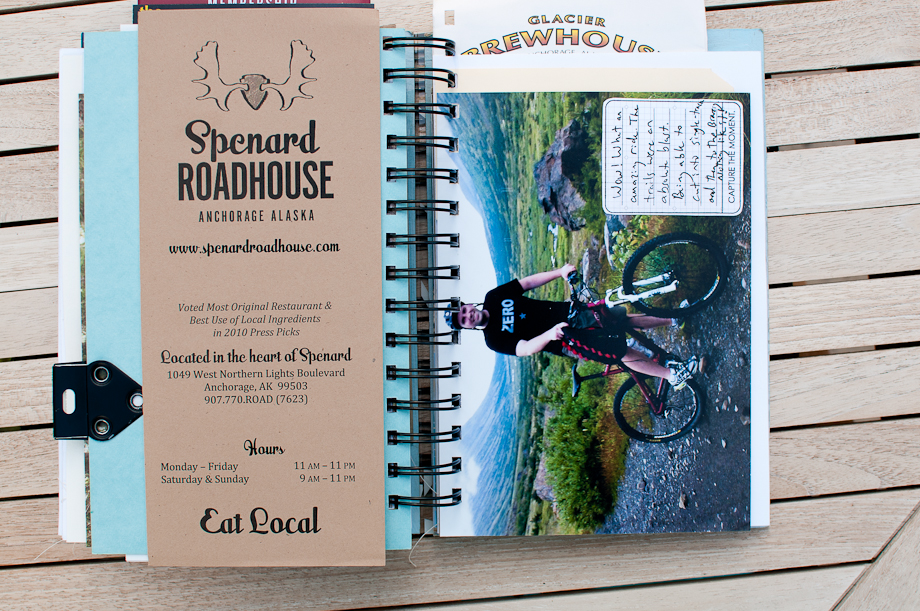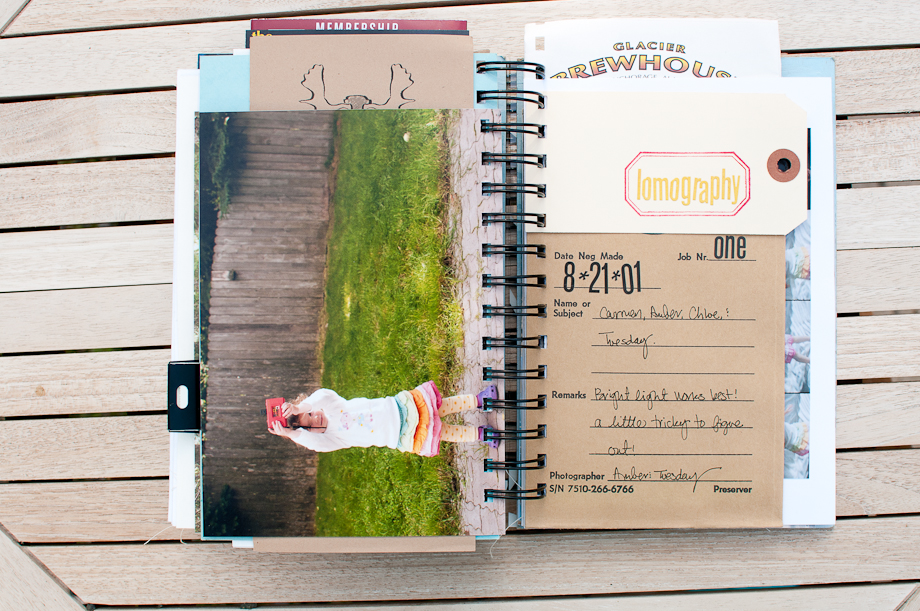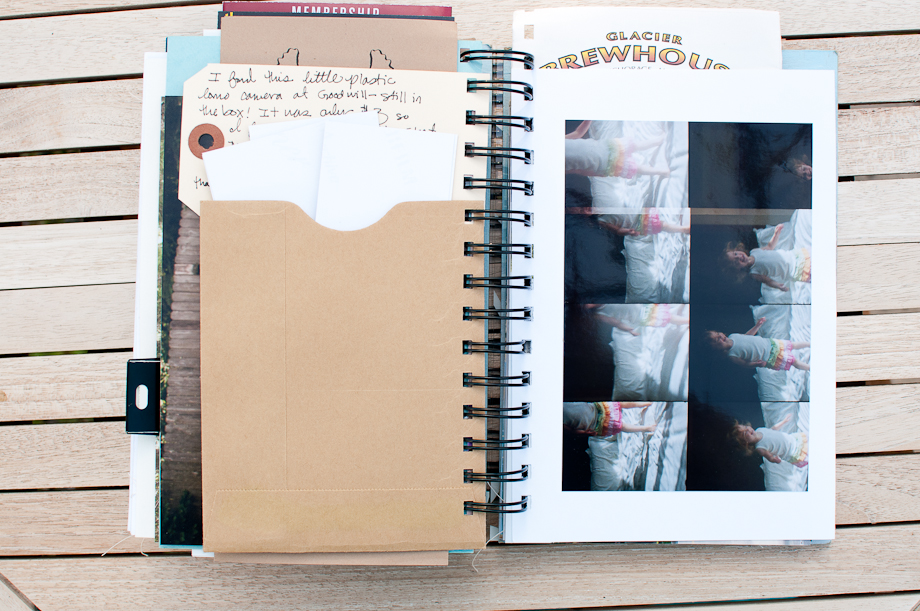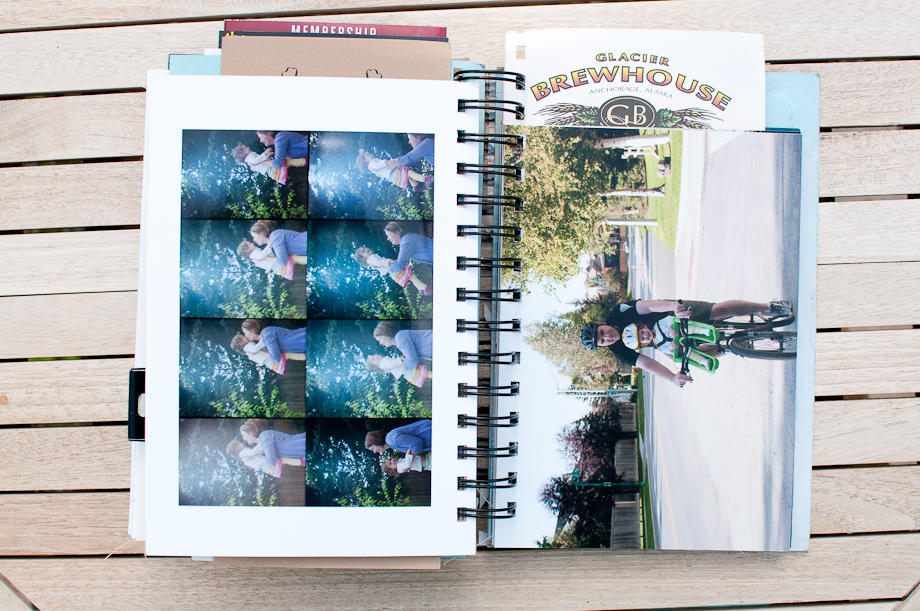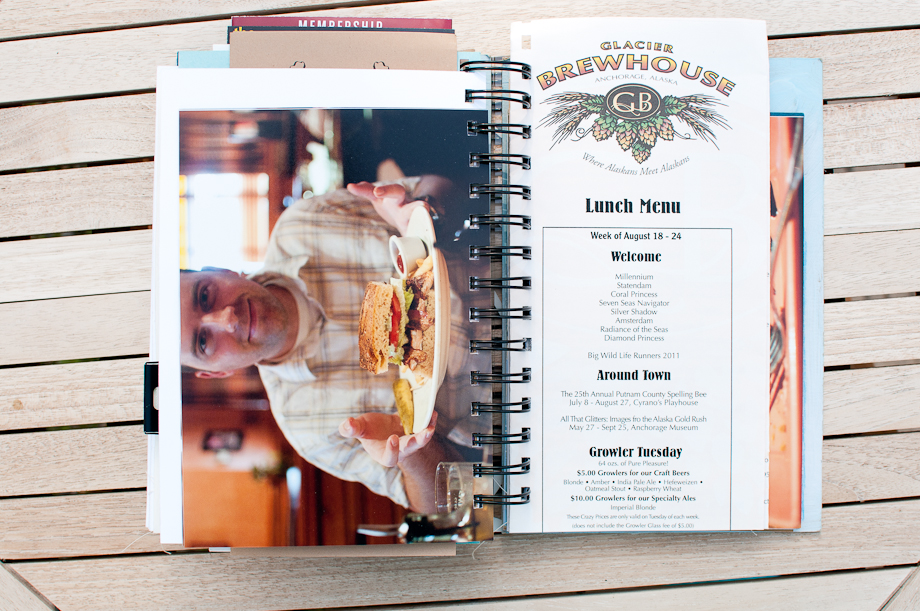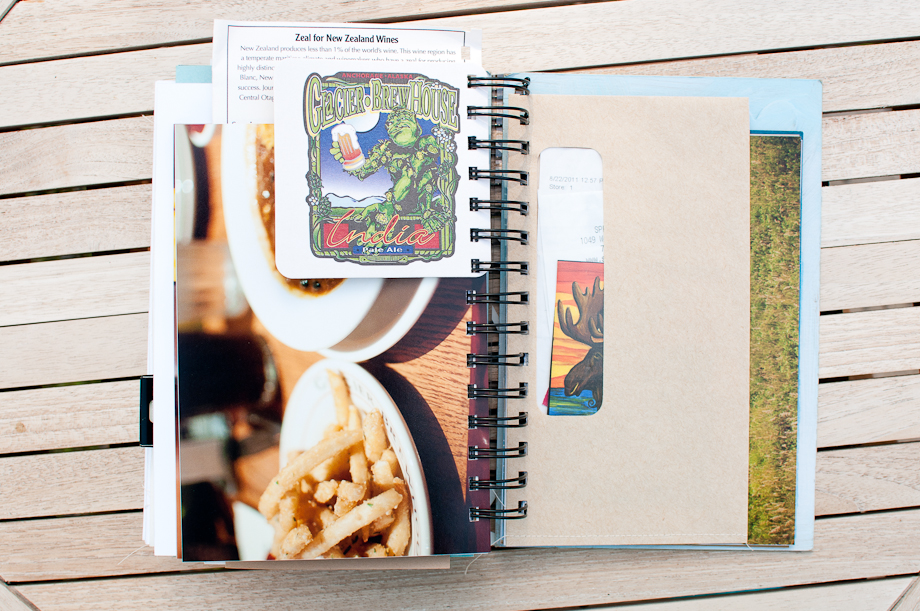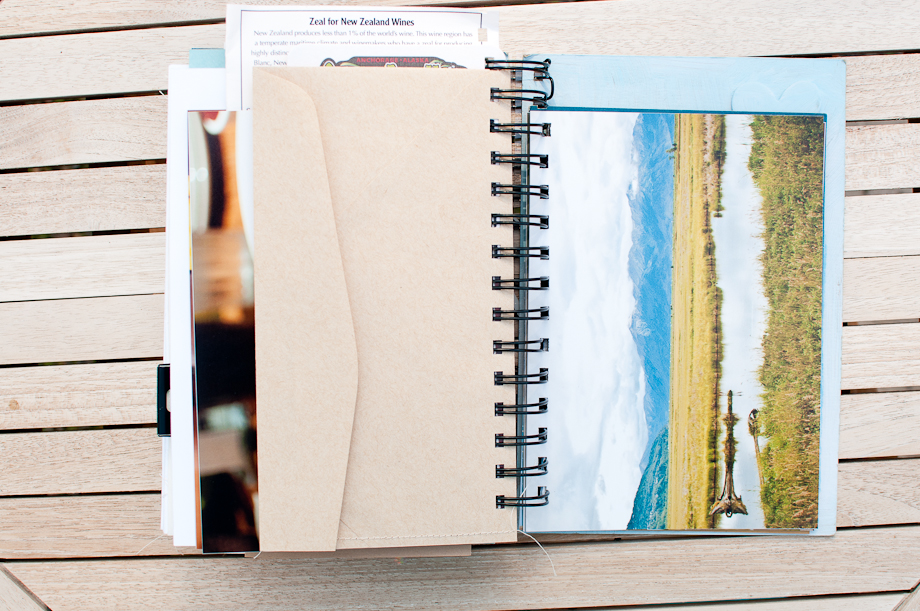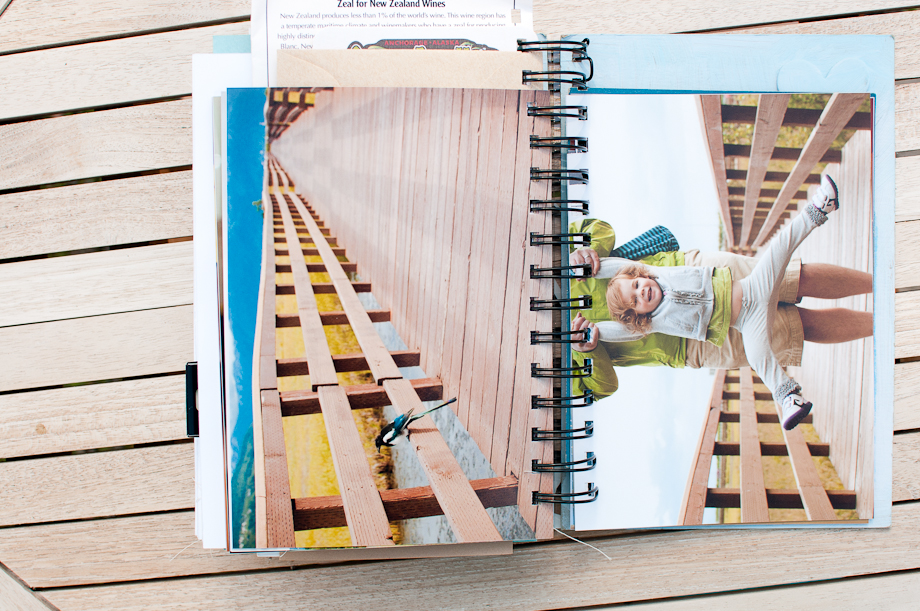 Even though I've made lots of scrapbooks on the road (really more like embellished journals) I decided to purchase Ali's class to make sure that I wasn't missing out on any of her great ideas. And she did have lots of great ideas. The acrylic overlays on the cover was one. My favorite part of the class though was just listening to her thoughts (via her videos that come with the class) while I tinkered around with my supplies deciding what to put in the book and what to bring. I love getting ideas from crafty friends and this is what listening to the videos felt like to me. I'm sure I'll go back to them again the next time I take on a project like this.
And when did I "scrapbook"? Well mostly in the evenings in the hotel. I would jot down some journaling or adhere some ephemera as we were all winding down for bed. I did take my box of goodies, the book, and some prints over to Carmen's one afternoon while the girls were napping and work on figuring out where photos were going to go. I loved doing the back to back prints as pages thing, it worked perfectly. Bj is a fan of the book too, he loves all the little bits (receipts, brochures, etc.) the most. Tuesday wanted to work on hers once, and then was over it. I printed off some extra pictures for her and they are in a bag along with a few extra pieces of ephemera in case she wants to come back to the project.
All in all a success, now if only Zutter made thicker bindings! Any questions? Ask in the comments.
A few things answered:
Stickers are an awesome set from Lily Bee, you get a whole bunch of tiny alphabets on one big 12×12 sheet, I cut it apart to travel with. Loved it for titles and dates.
I did bring stamps, I mounted unmounted stamps from Purple Onion (via their tutorial) and they could be stuck to an acrylic block. I kept them in an old school CD jewel case.
The photos that are stuck back to back as pages are sized 5×7 and are lustre prints from Costco.