Oh my silly Tuesday. She decided she wanted to be a brown hairstreak butterfly and went on and on about it's beautiful tan color (the butterfly was pictured on this post).


The tan body was no problem. I pulled out an old Stretch and Sew pattern for a simple raglan sweatshirt type top and traced her leggings for the bottoms. It's a little funky with the yellow ribbing around the collar, but I didn't have another color that worked and I was NOT going back to the fabric store before Halloween, that place was a mad house!! I would like to mention again that I got a super cheap ($189) serger off of Amazon and except for top stitching, that's all I used on this fleece outfit. It was so quick. One rest time people, ONE. Total side note here. But really I did not realize how easy these types of tops went together. You may see a lot more raglan sleeved tops soon!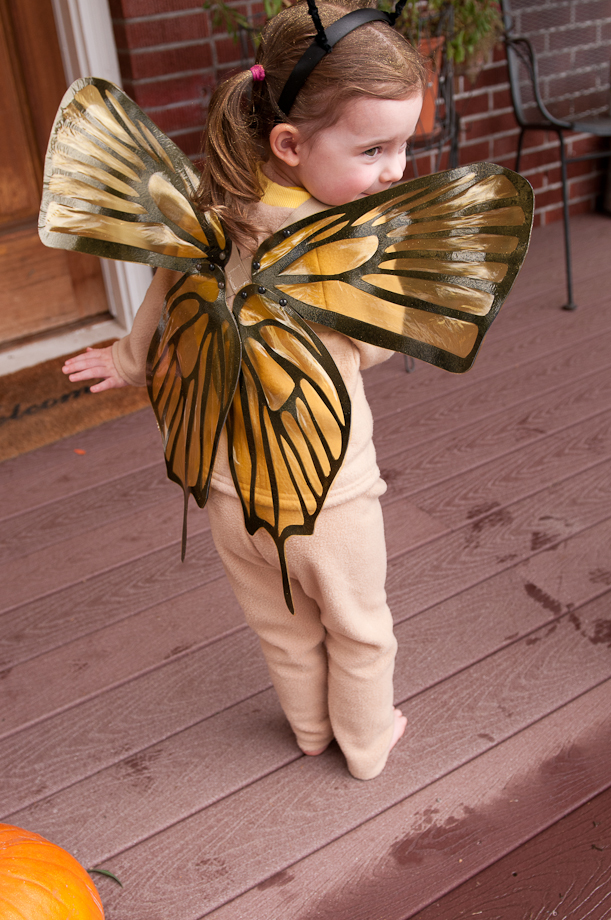 So I finished the "nice tan body" last week, but then waited until the day before Halloween to get cracking on the wings, of course. I was going to go your standard wire frame covered in fabric route but nothing looked "real" enough for me. Then I came across this tutorial on YouTube, showed it to Tuesday and we were sold. Of course at 2AM on Halloween my hand was dying. I persevered and finished cutting it all out day of. I used amber colored cellophane (fitting, right?) and the wings were done… Oh except how to attach? I came up with a tan elastic harness. That was easy. I couldn't figure out how to attach the wings to it. Many will not be surprised that I turned to my brad stash. They worked great. I used an old Moonshine Design universal eyelet setter to punch through all the layers. I don't think they make these any more but I love this heavy duty tool, never lets me down. I did accidentally cut through the setting mat, but that's my own fault.


My mom came over and put Tuesday's hair in piggies because you know, EVERYONE does her hair better than me. And look at Bennet. Remember when Tuesday wore that shirt? Sigh. And we went to the patch that year. I was so much more on the ball. Tuesday went to the grocery store patch with papa on October 30th. Oops.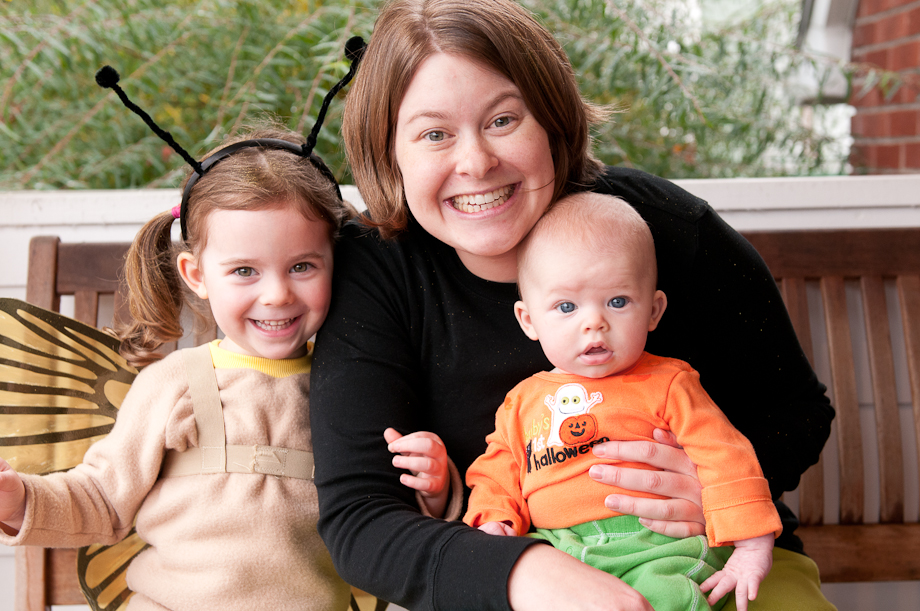 Look I'm in a picture! I do look a little crazy and like I have dandruff (glitter hairspray gone awry), but hey!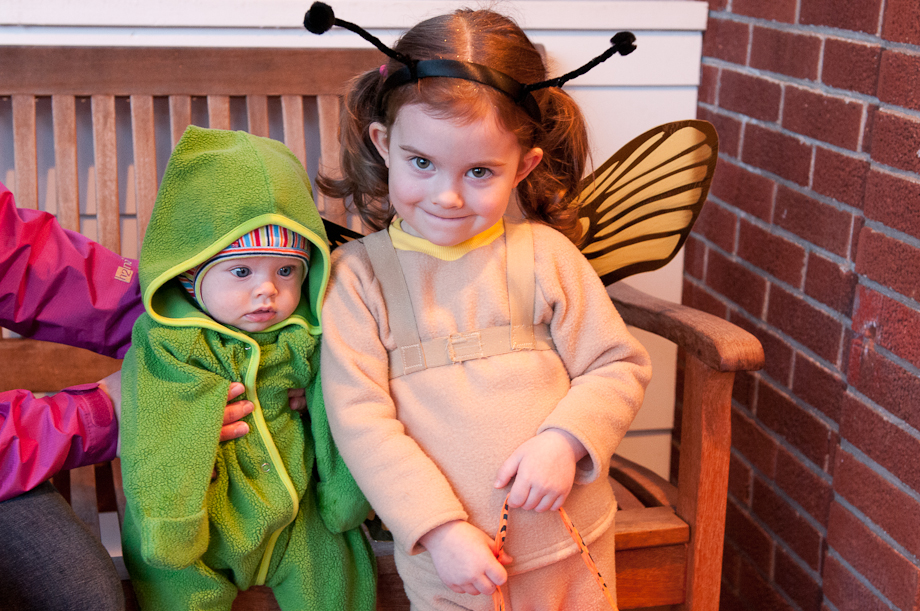 The first of many sister dress up pictures, I'm sure. Bennet is a chrysalis. The genius part was that Tuesday actually remembered that was the thing before you're a butterfly and told our friend who asked what she was. I'll be honest. I'm a huge fan of Zutano and this was a great excuse to get one of their little elf suits.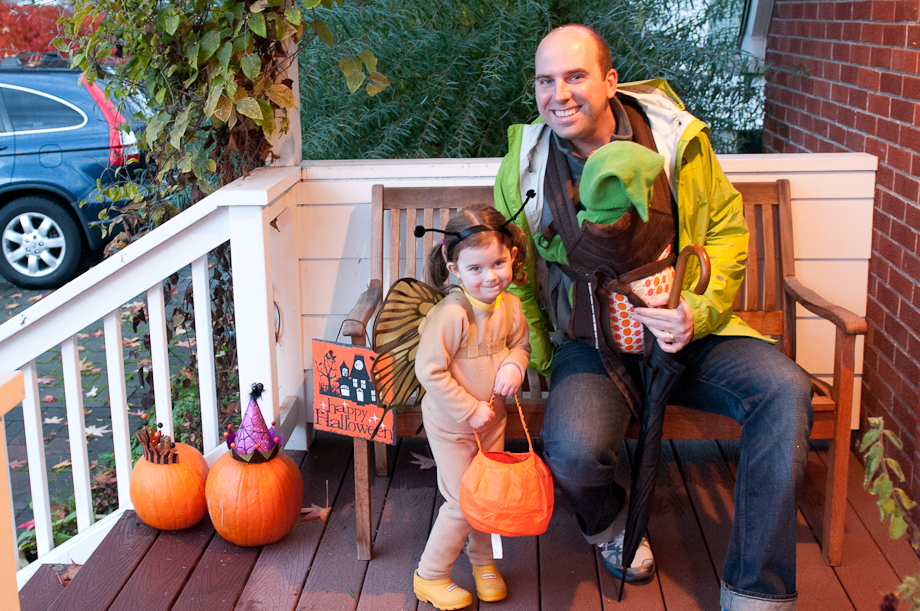 Bj carried around Bennet in the Baby Hawk and I attempted to get Tuesday to go up and ring doorbells. No thanks. She has been talking about this for weeks but when it came down to it? Um, just too spooky for her. So Bj went to get the car while Tuesday and I walked to Erin's. Then we drove to my mom's. She lives in a nice neighborhood and a lot of people drive there to trick or treat. This was so fun for Tuesday who got to spy on kids coming to the door (side note: super adorable Tuesday moment. I was going to take over door answering for a while and Tuesday asked, "Mama, will you be ok when the big kids come to the door? You won't get spooked?")l We had pumpkin soup at my mom's and when we got home Tuesday had a brief moment of wanting to keep all her candy. But once she saw the toy I got her she handed it over (she ate a few pieces last night). Since she asked if the candy fairy was "spooky" (word of the day) I came clean and told her it was me.
I had fun making the costume and I'm glad she loved it. I wasn't going to finish the sweatsuit all off (hemmed sleeves, etc.) but I did because it seemed like it would be a good base for a lot of different things. Maybe I can talk Tuesday into dress up one of these days. I don't know, if it's not "coffee shop" related, she's usually not interested. Latte anyone?