This morning I put together some major yumminess. Fun packets of goodies for my helpers from the wanted post. Check them out: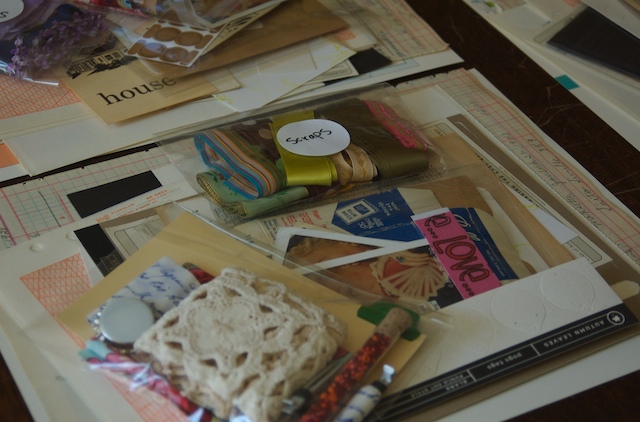 I'm still looking for that fan so you know, there could be goodies coming your way too. One of the things I put in there were some pages from this awesome ledger: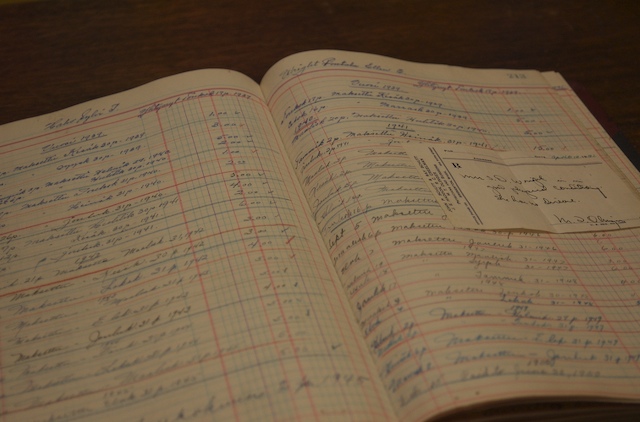 It was three dollars at a sale last month. It is so wonderful, the writing, the size of the pages everything. I've used it on almost a dozen scrapbooking projects already (I know, I know, I need to scan them in). I had gotten a ledger from eBay a few years ago (gosh that's a blast from the past, sometimes I forget how long I've been blogging!). But that one is sort of a journal, I want to paint in it, it's very big, this one is a bit smaller, and since it was only three dollars I don't feel absolutely horrible about tearing it apart.  Any way nothing makes me want to play with my supplies like organizing them, so I decided to make something up for Bj and my upcoming trip. We are headed to Alaska. By car. By this car in fact. That's right, a 17 year old car with 200k + mileage. So I'm assuming there will be adventures and craziness, and a travel journal is a must. I thought it might be fun to go through my process a bit.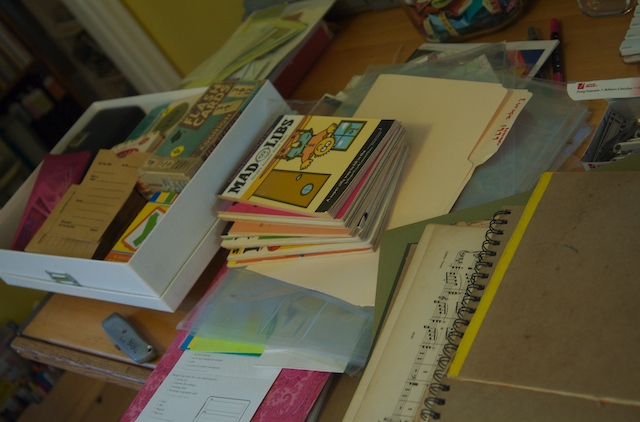 This is how my little studio gets so insanely messy. I take stock of the things I have and want to use. While finding one thing I'll come across something else that could work. Some of the things I have in this pile: my box of ephemera, mad libs, sticker binder pages, old sheet music, used paint pallets, knock knock stuff (of course), files, mat board, watercolor cold press paper, paper samples, ruled note book pages, prong fasteners, paint chips, post cards, paisley print cut from an old gift box, and lots of envelopes.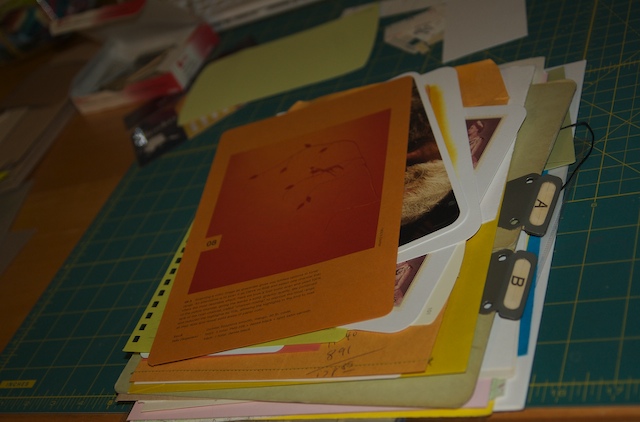 Um lets stop for a minuet and think about how sweetly cool those tab things are. From a local shop here. Okay so now I've pulled more of a pile together. I also took some of the envelopes and cut the bottoms off and then sewed them back together so that they would fit better.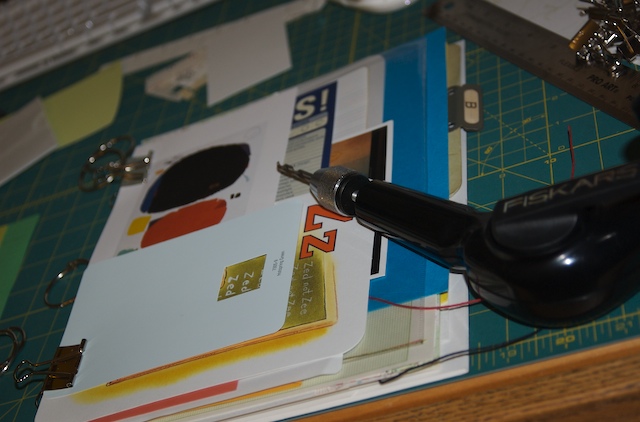 Then I put the pages in order and clipped them together. I want to thank Donna Downey for introducing me to the wonder that is the fiskars drill. Damn I love this thing. It's perfect for a project like this where it would be way to hard to line everything up and punch it. It's also really messy. I have creative dust everywhere. I decided to use book binding rings like I did for my senior printmaking project: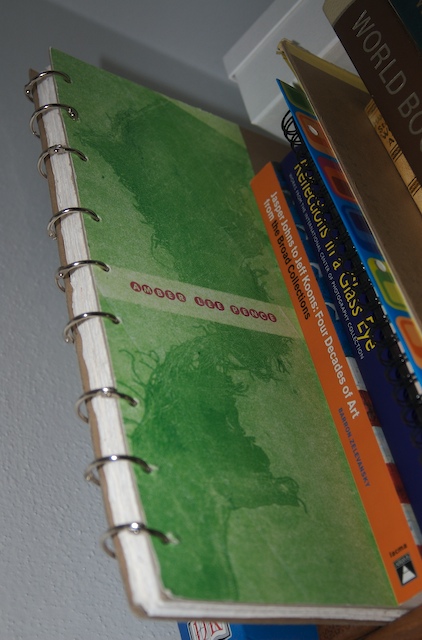 Ah I loved that project. Anyway here is an open shot:


I have these awesome Canada from Aa to Zz cards from Hemlock Printers that Sciarrino brought back from a graphic design conference for me. Since we'll be driving through Canada I figured I could finally use them. I have such a hard time using things like this that I can't get again.


I still have things to put in it. I used mat board for the covers, and I'm going to bring a piece of chip board with me wedged between the pages so I can use it to back a page when I want to write. I'll keep you updated as I get it filled up a bit more.